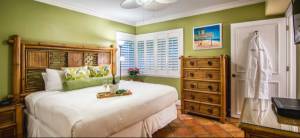 Christine Therien of Crane's Beach House Boutique Hotel and Luxury Villas talks about why being unique is always a draw in the hospitality business
After getting into the hospitality industry by accident, Wisconsin-to-Florida transplant Christine Therien says she has found her perfect job as the Event Director at Crane's Beach House Boutique Hotel and Luxury Villas in beautiful Delray Beach. No two days are ever the same, and she likes that she needs to stay on her toes.
Find out more about Christine, the "hidden treasure" of Crane's, and how the little touches can make a big impact in the hospitality business:
Where are you from originally?
Originally, I'm from Wisconsin. I moved to Florida for college. My parents had a condo down here since I was five, so I had been to Florida many, many times, loved it, and knew this is where I wanted to live. When it was time for college, my dad asked where I wanted to go, and I said "Florida." That's where I moved and that's where I stayed.
What is your position at Crane's?
My main job is Event Director. I'm also a bookkeeper and HR. We're a small property, so we all wear several hats here.
How did you get into the hospitality industry?
Kind of by accident. I've always been a bookkeeper or office manager of some sort. When my kids started back to school, I was looking for some part-time work, my computer skills were a little rusty after eight years away, and I got a part-time job helping in the events department here at Crane's. I loved it and I eventually took over the department.
What do you love about it?
I'm a very organized person, so organizing events is really my thing. I love to plan events, and I'm really good at the numbers, so the bookkeeping comes naturally. It's really an ideal job for me.
What makes Crane's unique?
Crane's is definitely not a typical hotel. It's beautiful, it's small, it's secluded. People feel like they've found a hidden treasure. You also feel like you're at home. Crane's is not a typical box hotel. You won't feel that way here. It's a very laid-back, relaxed vibe.
We have two beautiful pools, hammocks, and garden areas to sit and read. The back patios have recently been redone and they're fresh and relaxing. We're an easy walk over to the beach. The nightlife, fun, shops, and galleries on Atlantic Avenue are only a block away. It's a great location.
What type of events do you host?
We can host anything. We can do a surprise birthday party for your wife, we can do a wedding. You name it, we'll knock it out.
What part of your day gives you the most satisfaction? 
I think the best part of working here is that no two days are alike.
What are some of the challenges you face with events?
My motto is 'plan the heck out of it and let it happen.' Things will go wrong. I've had wedding cupcakes fall in the sand. Crazy things that you can't plan for happen during an event, and you have to be ready to fall back and punt. You've got to be ready for the unexpected.
What's the most important lesson you've learned working in the hospitality industry?
Keep smiling and just soldier on!
Why were Boca Terry robes chosen for Crane's?
They had approached us in the past and we had always bought our robes elsewhere. And when we were doing some remodeling, we were looking to make some changes and we really weren't happy with the robes we had. We then reached out to Boca Terry and they brought a whole suitcase full of robes and we tried them all on. We wanted something different, and they do an excellent job for us. We monogram our robes with our logo, and we actually bring in two different types for our villa rooms and our regular rooms. Both are great. We also feature Boca Terry slippers.
How is their customer service?
I've never had a problem. My rep is wonderful. The response time is prompt and delivery time is as promised. Never had an issue.
How have Boca Terry robes been received by guests?
Very well. We sell quite a few of them at the front desk. Guests come to us and want to purchase the robes that are in their rooms. When they want to buy it, you know you have a quality product.
What qualities do you think are most important in a robe?
Versatility, softness, comfort, and the quality of material.
How do Boca Terry robes make Crane's more appealing?
When you walk into a hotel room and see the robe and touch it, and it's so soft … it's like "Ooh, I really like that." That simple touch raises the hotel to a higher level. It definitely enhances the guest's visit.
Share this item with friends