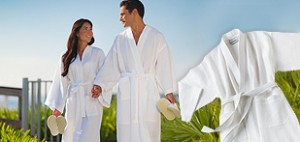 At Boca Terry we listen to our clients. Already known for investigating and implementing the best methods for manufacture and production, we are heeding the current outcry for socially responsible methods and safer products that promote a Green ethic.
Educating Consumers
Today more and more people are becoming aware of the hidden hazards that are embedded in many commercial products. Using protocols that do not respect the integrity of the environment are no longer being supported through ignorance. With so much material available that documents the often adverse effects of working for a bottom line and mass-production, we are working to help educate consumers on the great benefits of adopting more conscious and healthful ways to do business.
Using Sustainable Alternatives
One of our biggest sellers now has become our organic line of 100% cotton robes and towels. With the ever-dangerous presence of commercial pesticides and fertilizers in almost all of our foods and clothing, Boca Terry's promotion of more sustainable alternatives is paying off.
Promoting Health and a Cleaner Environment
Promoting health and a cleaner environment is everyone's concern. Up until approximately 50 years ago, cotton was a staple that was nurtured through natural farming methods that included crop rotation and honoring the natural biological cycles that have been tried and true throughout time.
A Balanced Ecosystem in Jeopardy
Today we have one quarter of some of the most toxic agrochemicals being used on cotton crops alone, severely impacting the environment and jeopardizing a balanced ecosystem. In 2000, the USDA published a study that exposed the deadly fact that 84 million pounds of pesticides were sprayed on cotton in the United States, so you can imagine how this number has increased during the subsequent 13 years.
A Serious Problem
Today cotton is the second most toxic product after corn. With many pesticides containing Paraquat, a seriously toxic defoliant, and Parathion, which is known to be 60 times more deadly than DDT, there is a serious problem. The Environmental Protection Agency has published a document that seven out of the top 15 pesticides used on cotton are known or believed to be carcinogenic.
Crops Bereft of their Value
It is a known fact that these and all chemicals are absorbed directly into plants, water systems, soil, and then, ultimately, our bodies. With spraying done from the air, adjacent land becomes contaminated as the chemicals are blown by the wind, poisoning the surroundings, endangering wildlife, and leaving us with crops bereft of their true value.
Survival of the Fittest
In our Darwinian world of survival of the fittest, insects rise to the occasion, becoming resistant to current toxins which were designed to kill them. And so the chemicals have to become more potent, and we can imagine the rest of the scenario if we proceed in this manner. The EPA has stated that an estimated two million birds are killed per year by Carbofuran, one of many insecticides included in the deadly cocktails designed by companies that deal in these materials. Other ingredients can include chlorine bleach, dyes containing heavy metals, and formaldehyde resins.
GMOs
Adding insult to injury, we now have genetically modified seeds to contend with, which is where 75% of cotton crops come from today. We can only imagine what this means for the future of the planet and our health.
Our Healthful Attitude Towards Farming and Consumption
Using 100% natural fibers to create our impeccably tailored, styled, and functional luxury robes and towels, Boca Terry honors the natural way of growing cotton through methods that harmonize with a healthful attitude towards farming and consumption. Mindful of environment and cotton workers, these balanced practices hark back to a time when we didn't need to speak about lowering the carbon footprint.
No Adverse Affects
With our exceptional products, buyers can rest assured that their customers will not be adversely affected by chemicals that penetrate the skin to cause potential rashes and other disturbances. This is especially good news for those who suffer from asthma and allergies.
A Safer Product
Providing you with a safer product along with mindful production and manufacturing procedures that respect the ecological balance is also our way of honoring you. With robes and towels representing some of the most intimate products there are, it is essential to us that we support the ever growing Green movement that we believe will soon become the norm within the hospitality industry.
The Organic Seal
Our organic cotton products fulfill the requirements put forth by the National Organic Program and the U.S. Department of Agriculture requiring strict testing before their seal is given. With their seal, we are proud to be a part of the movement in favor of better conditions for the soil, water tables, local flora and fauna, cotton workers, and ultimately your guests.
The Boca Terry Mission
Established in 1996 by Bruce and Edward Cohen, Boca Terry was created to offer the hospitality and promotions industry the best quality items through in-depth research and attention to detail. With warehouses in Miami, Los Angeles, London, and Hong Kong, we are able to distribute to clients worldwide, providing customized embroidered products that speak of quality and exceptional design.
Keeping Costs Down
Manufactured in factories in China, Columbia, India, Pakistan, and Turkey, the absence of a middleman is what helps to keep costs down, allowing you to purchase top-tier merchandise without going above budget. Additionally, our quality control is handled by employees trained to understand the importance of every stitch and seam, whereby no product is sent out to you without thorough inspection.
Systematic Lab Testing
With systematic lab testing, our manufacturing processes have become a precise science, demonstrating our meticulous attention to providing our customers with the best fabrics woven and treated using advanced protocols devised to do the least damage to our environment.
Contact Us
As one of the premier manufacturers of bathrobes for luxury brands, Boca Terry is leading the way as a socially responsible business that sets the bar. For more information on our 100% organic products as well as a view of our entire inventory, please contact us today! We sell to both wholesale and private consumers, so get in touch today!
Share this item with friends