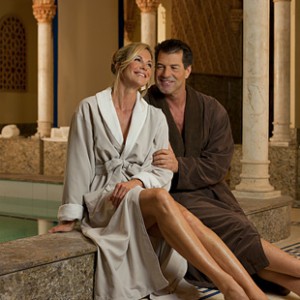 The difference between quality robes and sub-par robes is obvious the moment you pull one on. Quality robes are constructed of fabric so soft that wearers have little to no desire to get dressed any time soon. There is however, a wide variety of quality soft plush robes that each individual can find to best fit his or her personal needs. Boca Terry carries an excellent assortment of soft plush robes, offering robes crafted in various styles and constructed of the highest quality materials.
Boca Terry's basic kimono bathrobe can be purchased in either the terry or velour options and is designed to provide a sleek outline of the wearer's body. The kimono accomplishes this attractive appearance through its focus of materials on the actual body of the robe and avoidance of too much cloth around the collar and sleeves. Our terry and velour choices are made of 100% combed cotton and are both incredibly soft.
Alternatively, individuals looking for a less traditional robe option may be pleased with the more textured checkered bathrobe also sold through Boca Terry. Made from a soft velour fabric, this unique robe is crafted with a wonderful waffle-like texture to create an optimal blend of comfort and texture. However, the luxury details of this robe don't stop with the fun choice of fabric texture. Instead, this robe also features navy or white piping on the shawl collar if desired as well as roll up collar and cuffs (on the shawl collar).
Other luxury robe designs offered by Boca Terry include their satin stripe robe. Available in either white or ecru, this soft robe features an elegant striped pattern on the exterior and is lined with a French terry knit. This combination of details for the outside materials and the excellent comfort of the interior lining results in a bathrobe that is both soft and elegant. As an added bonus, this robe can also be purchased in either the shawl collar or kimono styles; the length of both the full robe and the sleeves depend upon what model this satin stripe robe is ordered in.
In addition to this satin stripe robe, Boca Terry also carries a few other striped robes as well. More specifically, both the velour stripe robe and the mini stripe robe feature striped designs in their extra soft plush materials. The velour stripe robe's pattern is about one inch thick while the mini stripes are far more intricate in detail.
The microterry robes in both the kimono and shawl styles are especially soft and cuddly and they are a stand out style for plushness.
Of course, these bathrobes are also designed for convenience in addition to comfort. For example, these robes are outfitted with deep pockets for maximal storage capacity. Other features include hanger loops to allow for convenient storage (no more problems with robes slipping off their hangers!) and double belt loops to be adjusted for the best fit possible. Whatever your need, a soft plush robe can be yours when you purchase with Boca Terry.
If you are looking for further information, please do not hesitate to contact us.
Share this item with friends