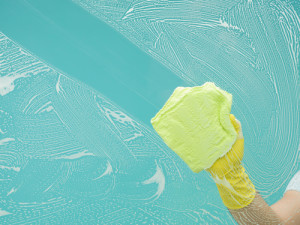 No one said the concept of spring cleaning is solely intended for seasonal home cleaning. Hotels have been increasingly adopting cleaning plans catered to a higher intensity to prepare for the warmer times of the year.
To tackle different areas of your hotel this spring, start with the following:



Polish silver and stainless steel details. Although this should be done regularly, make sure to have silver accents in your guest rooms as well as in your restaurants well polished to bring back the sparkle. To get all of the bathroom faucets to shimmer, an equal parts oil and vinegar solution can do the trick. 
Deep clean carpets and tiles. Whether your floors are carpet, tile, or both, be sure to focus on getting rid of all stains. Cold water should be used to blot a stain in a four-way direction before using any chemicals to remove it. Be sure fragranced cleaners are used.
Clean the curtains. Curtains generally absorb numerous odors over time, so it's crucial to give them a thorough clean. They should be vacuumed first, to remove all dust, and then placed in the wash. Check the curtain's care instructions to use the methods appropriate for the fabric. 
Rinse the lighting fixtures. From lamps to chandeliers, whether in the hotel lobby or executive room, all lighting fixtures should be polished, as well. A 3:1 ratio of water and alcohol can be sprayed onto crystal elements and then wiped off with a clean, dry cloth for the best results. 
Check all linens and room accessories. Spotting stains on linens and different amenities offered in guest rooms is almost unavoidable. Sometimes, these areas can be salvaged, but other times, the damage is too stubborn to eliminate. Check for signs of wear and tear in different areas like bed sheets and bathrobes to decipher whether it's time to replenish.

Guests heavily emphasize the importance of the cleanliness of the hotel in which they're staying. By following these easy steps, your hotel will be well on its way to maintaining the customer loyalty it deserves.
Share this item with friends