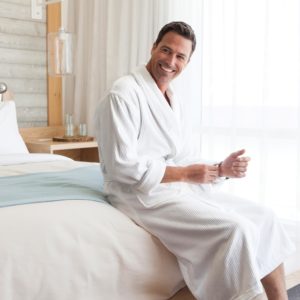 Stand out from competitors with unique touches
Tradeshows can be incredibly impactful events for your business, when done well. But they can also take a lot of preparation, especially if you're still on the fence about how to make an impression. Never fear. Here are a few ideas that will help inspire tradeshow guests to learn more about your brand:
1. Tradeshow attractions
When you think about tradeshow attractions, what comes to mind? Dunk tanks? Huge, expensive vacation giveaways? That might be the case, but keep in mind that your tradeshow attractions don't always have to take a huge investment. Often, fun attractions are rentable online at affordable prices. Whether it's a giveaway prize wheel or something related to your company's line of business – like an active photo booth for a wedding planning company – there are lots of creative ideas you can try on short notice (and without breaking the budget).
2. Vibrant displays
First impressions matter. So if you've set up a well-produced tri-fold board, upright banners, or an entire backdrop, you're on the right track. You're going to need something a bit flashy or otherwise visually appealing to spark interest, however. Getting this attention is what creates the opportunity for a closer look and an open wave of communication with visitors.
3. Smiling faces
You'd be surprised at how far a good crew can get you at your tradeshow. Be sure to have your most friendly, inviting, personable team members on hand for any event. Although flashy games, displays, and more can go a long way toward luring the guests to check out your proposal, it's your host's job to communicate the value of your product or service and really make them stay once they've reached the table.
4. Customized giveaways
One of the best ways to promote your brand is to give guests something tangible to remember it by. And we don't mean just another embossed business card – your audience isn't going to be influenced by something that boring.
When it comes to giveaways, you've got to go all out. What if your prize is a plush, luxury bathrobe – or you give away soft, fluffy slippers to prospects who sign up for your email list? Embroider your logo on these items and you're set to be remembered.
Make your booth the star of your next tradeshow with vibrant attractions and top-notch giveaways. Show off your company in the best light possible to make your next event a true success. Thinking about the customized logo products we mentioned? Reach out today for a wholesale quote or with any questions about our selection. We'll be happy to walk you through each step of the way.
Share this item with friends