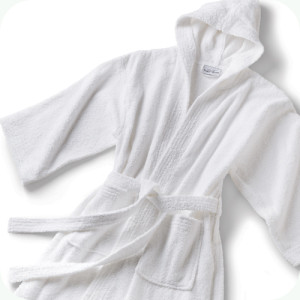 As game day approaches, you head to the stands with banners, signs, and blow horns in hand. Nothing will stop you from rooting for your favorite team today! When it comes to your team, you do not (will not ever) settle for less.
The same goes for your actual team members. They don't want to skimp on quality when it comes to their favorite sport, so why skimp on quality when it comes to their gear? That is why Boca Terry robes and accessories are the best choice for the special athletes in your life. Treat your players with the pampering they deserve through Boca Terry.
Why Choose Boca Terry?
Our popularity is not the only factor that speaks for our items. Our quality manufacturing, unique designs, and affordable prices all add up to an outstanding product. It's no wonder that our products can be found in some of the top names in the hospitality industry—and not just in their rooms, but in their gyms and fitness centers, too!
Unmatched Manufacturing
You may have heard about Boca Terry before, and there is a reason why. We meticulously manufacture each product we produce. Our years of experience have allowed us to refine our manufacturing process down to a science. Whether through careful fabric research for quality, uniquely innovative designs, sample making or systematic lab testing, our customers always know they have a well-manufactured product in their hands.
You Will Never Question the Quality
Because we source fabric and materials from all over the world, you can trust that we use the finest products available. We never settle for less when it comes to materials—and neither should you.
Don't Break the Bank
One of the best things about our products is that our products are manufactured so that they don't break the bank. Because our team is all-in during the manufacturing process, we have the ability to cut out the middleman. That is good news for you, because that means that we can keep costs lower than many other companies—and we insist on sharing those savings with you.
In other words, we do our part to keep costs low, and you get to do your part in celebrating that big win with us! We pride ourselves in offering affordable, luxury quality items that meet all of your needs and expectations at a great price. That means that you can afford to offer robes to the whole team. Yes, even the water boy!
Fast Shipping
Fast shipping is always a plus when it comes to sports team needs. Because we have stock a large quantity at our headquarters in Florida, we can readily ship your wholesale products easier, faster, and better than ever! We offer a quick turnaround time for our affordable, luxury items.
Items Your Sports Team Needs
When it comes to ordering robes and accessories for your sports team, there are some products that stand out from the rest as all-stars. The following are Boca Terry's top picks for your sports team:
Kimono Waffles
The MVP of all bathrobes, the Kimono Waffles Bathrobe is the best choice for athletes. This robe is soft and durable, yet incredibly lightweight and airy. Whether gearing up before the game, or getting ready after the game, your athletes will always stay cool, calm, and collected.
Spa Wraps
Ask anyone: a spa wrap is a great amenity for his or her locker room needs. Whether your sports player is a bit shy, or if they'd just like a simple solution to the slipping towel dilemma, a spa wrap is a great option. Spa wraps are perfect for when your sports player is getting ready to tackle the rest of the day after a shower in the locker room. Finally, a more private way to prepare for the day.
Spa Headbands
Like a softer, modern sweatband, the spa headband will keep stray hairs out of the way during practice. Plus, it is made from incredibly absorbent cotton, meaning that it will soak up any extra sweat, ensuring your athletes can stay focused on the task at hand. Even when not on the field, it is an excellent accessory for athletes with long hair. It will keep their hair from their face in the locker room after the game!
Slippers
After a big game, your players are bound to have achy, tired feet. Help them rest and recharge before the next practice or game with plush, soothing slippers! The Open Toe Velcro slipper is a popular option among athletes, and is a cozy substitute for the Velcro sandals they tend to enjoy using after a game. It is made from absorbent cotton terry or microfiber, and these slippers are adjustable, elevating their comfort.
Remember Retail
Whether you are celebrating a special holiday or a milestone birthday, don't forget to order (and personalize) a robe for your favorite athlete! Even if you don't want to order bathrobes and other accessories for the whole team, you can always order one for your favorite athlete. Moms and dads, aunts and uncles: don't forget your special sports player!
Boca Terry: Bringing Teams Comfort, Rest, and Wins!
If you want a well-rested, recharged team before the next game, you know what to do: pamper them with the best! If you have questions about wholesale pricing, or to place an order for any of our items, contact us today!
Share this item with friends