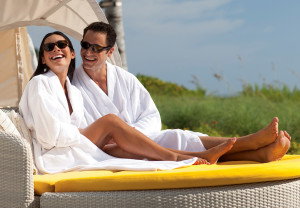 It might seem hard to believe, but spring is already nearing its end. College students are taking their finals, the flowers are in full bloom, and families are planning vacations. Many love this time of year for all of these reasons. After all, you can't really go wrong!
Unless you aren't prepared, that is.
What can you do to prepare for the summer as a hotelier or industry professional? Now is the best time of the year to begin stocking up on your summer bathrobes. Trust us, you won't want to delay!
Summer Vacations
Don't wait until summer's busy season begins before you stock up on bathrobes. As you know most families take a vacation during the summer. Whether it's because students and teachers are out of school, or because warm weather is great beach weather, but you are going to be experiencing a greater influx of travelers during this season than most other times of the year. And that is no time to run low on (or run out of) bathrobes!
Where Guests Use Bathrobes
During this transition from spring to summer, you better believe that your guests are going to go to the pool. Guess what they will want to use there? Bathrobes.
And if they get too chilly at the pool, they will want to head over to the hot tub as well! Guess what they will want to use there? You guessed it: bathrobes, again!
That is why it is so important to have bathrobes on hand all year, but especially during this time of year.
Keep in mind that these are just a few examples. These are not the only places that your visitors will want to use a nice, plush bathrobe. In the locker room at the fitness center, at the spa, or even in their own bedroom, your travelers will love wrapping up in a luxury bathrobe. Make sure you are highly stocked.
Why they Use Bathrobes
You guests are going to want bathrobes for a number of reasons. They use bathrobes when they relax on your resort. Bathrobes are a unique piece of wardrobe, as they allow the users to unwind and feel cozy.
But, robes go beyond relaxation and rest, alone. Bathrobes are not just one of the most comfortable pieces of clothing, but they are also an excellent piece of apparel when guests wish to dry off.
Not to mention, bathrobes make an excellent cover up after they come out of the water. Bathrobes have proven time and time again to be an indispensible amenity on which guests rely.
How Often Will Your Guests Use Their Robes?
Guests will probably use your bathrobes each day. That means that you are in need of extras on your resort or at your hotel. As guests check in and out, each room requires freshly cleaned robes. You need to have enough on hand to keep the rotation moving, which means you should keep multiples of the same bathrobes stocked up and ready for use.
However, you don't want to use just any bathrobes. Be sure to keep quality as a top priority when you are investing in items for your hotel, spa, cruise, or resort.
Why Quality Matters
Quality bathrobes are important. Because they are used so frequently, your bathrobes might start to show signs of wear and tear, especially if you opt for lower quality bargain brands. If you opt for lower quality brands, you might find that, halfway through summer, you need to replace many of your bathrobes—and that's a huge problem!
As you know, this time of the year is increasingly busy for the hospitality and traveling industry. You, your staff, and your purchasing managers are likely to have your hands full—meaning that this is no time to think about restocking items that you as soon as possible!
That is why it is best to have these items on hand at all times. Stock up now to prevent this stressful occurrence.
Boca Terry's Quality
When choosing your bathrobes, we ask that you consider enlisting Boca Terry to do the job. Our robes are known for representing the ultimate caliber of quality and luxury.
All of our items are designed in-house and manufactured by us. That means that we can control the quality throughout the entire process—and we do several quality checks to ensure that our bathrobes and other products meet our standards.
Stock Up With the Best
There is no substitution for the luxury of Boca Terry. Because we care about our customers, we manufacture our robes to be extremely affordable. High-class bathrobes at an excellent price? You can't go wrong.
Boca Terry is an affordable, yet long lasting solution to your needs. Stock up on some of our favorites before the busy summer begins. If you are ready to place an order, or if you have questions about wholesale pricing, please contact us today! We will be happy to assist you.
Share this item with friends