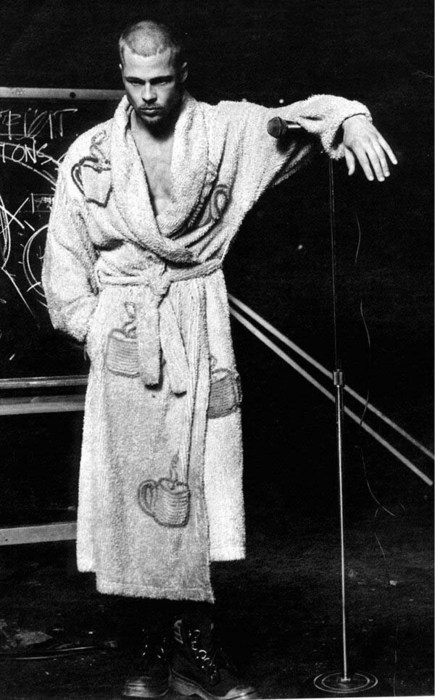 Attractive, approachable, and relaxed. These are three descriptions of how we define the ideal sophisticate when he wears one of our Boca Terry summer robes for men.
The Robe as Its Own Sex Symbol
At the risk of appearing politically incorrect, we might channel Hugh Hefner with his ubiquitous robes that make his claim to fame as the world's most louche bachelor. But then again, we can also channel Sean Connery as Mr. Bond in Dr. No, Johnny Depp as Mort Rainey in Secret Window, or Brad Pitt as Tyler Durden in Fight Club, to name a few iconic characters who have made the bathrobe something of a sex symbol unto itself.
Deriving Pleasure from a Great Fabric
It's true that our Boca Terry bathrobes are sexy. We've made them in the interest of helping men to feel good about themselves, to feel luxurious in their surroundings, and to derive as much pleasure as they can from the feel of a great fabric that does what its supposed to do.
Creating an Undeniably Chic Silhouette
A good men's summer robe is first of all supposed to wick away moisture, keeping the body dry and cool. At the same time, its supposed to create a casual and chic silhouette that is undeniable, no matter what kind of body it drapes around. At Boca Terry, we believe that everyone has the right to feel comfortable and desirable, and we make it our business to create robes that do this to a T.
The Right Dose of Elegance and Class
Our summer robes for men are designed for pleasure. We know that men love to be pampered as much as women do, even though some may be reluctant to admit it. Though there are many men that lack a certain fashion consciousness, we try to help them along by providing them just the right dose of luxury that speaks of elegance and class, even if they don't recognize that they are sporting something unusually spectacular in a world of otherwise lackadaisical styling.
Feeling Like a Million
A Boca Terry robe by its very nature is fashion conscious. Even if a man seemingly could care less, we know that there isn't a guy out there who doesn't feel like a million when draped with fine fabric and exceptional styling. It's all in the feel, even if he never bothers to look in a mirror.
Recognition of a Classy Look is the Perfect Mirror
In actuality, we believe that the real mirror is in the reflection of others who notice. The recognition of a classy look reflected in the glance of those around you is the perfect approbation, and there is no one in the world who is impervious to this kind of admiration.
Selling Like Hotcakes
We do more merely nod our heads to the importance of men's robes. We know that the hospitality industry depends as much on its menswear as it does it's women's, and this is why our men's robes are selling like hotcakes to hotels, spas, cruise lines, and more.
Raising Your Ratings
When male guests are fortunate enough to experience the sensuality of a good robe, the ratings go up. Because your brand depends on great publicity and word of mouth, stocking your establishment with the finest robes is one of the best ways to gain the reputation you deserve in today's market.
More Powerful than a Business Card
If you have an in-store boutique or an online store, selling your hotel or spa's robes for men is one of the best ways to help your male clients remember you long after their vacation or business trip is over. Taking home a summer robe that is customized with your establishment's logo or design can be more powerful than a business card.
A Multitude of Styles
Boca Terry supplies luxury high-end hospitality chains around the world with some of the most sumptuous summer robes for men in the marketplace today. Our experience with sourcing the most durable and exquisite materials for both our wholesale and retail markets has brought forth a multitude of styles, all of which are designed as one-size-fits all, with plus sizes easily ordered if needed.
Upping the Ante on Image
Our robes feature ample pockets for keys, smart phones, and other sundries; double belt loops for waist height adjustment, a loop on the back for easy hanging, and basic kimono or shawl collar styling. Dedicating ourselves to upping the ante on image when lounging poolside or at the wet bar, we put your male clients up front and center when it comes to making an appearance in full lounge mode.
Standing Up to All the Tests of Time
Whether you order a kimono style or one with our famous shawl collar and roll-up cuffs, what you get with a Boca Terry robe is a durable product that stands up to all the tests of time. Able to endure countless launderings and last through all of fashion's trends and crazes, our classic robes are crafted by top professionals who pay attention to every detail, from concept to completion.
Customizing With Your Logo or Design
One of the most effective ways to use our robes to your brand's benefit is to customize them with your establishment's logo or design. A monogrammed robe is what makes your inventory one-of-a-kind. Let our styling pros help you come up with the best way to personalize your robes, adding to their allure and desirability.
A Few Examples
Here are a few examples of what you will find in our online catalogue:
•    The Micro Chamois Bathrobe
•    The Microfiber
•    The Microtec
•    The Microterry
•    The Satin Stripe
•    The Mini Stripe
•    The classic Terrycloth
Delivering Worldwide
With our headquarters in South Florida and distribution centers in Los Angeles and Hong Kong, Boca Terry delivers worldwide. Our excellent customer service assures that your orders will arrive on time every time, and our consultants are always available for advice as well as answering any question you may have in regard to our inventory.
Contact Us Today
For more information on our exceptional summer robes for men, as well as our other products designed for the comfort and pleasure of your guests, feel free to contact us today using our online form or by phone at (877) 421-6001.
Share this item with friends