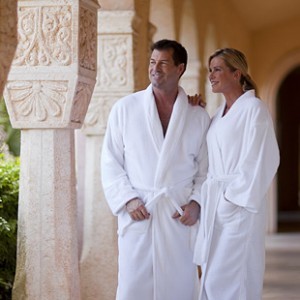 Summertime is the time when your guests are lounging poolside or pulling their beach chairs a little bit closer to the edge of the water, be it the pool or the sea. It's the season where people are happy to hang around all day long in their bathing suits, enjoying the sun and all of the amenities that surround a great summer vacation time at your establishment.
Keeping Your Guests Happy
This should be the moment when you are thinking of the best ways to keep your guests happy, and one is by giving them the best possible bathrobe to throw over their shoulders as they sip that fresh OJ by the pool. Our summer specials on luxury terry cloth bathrobes is one way you can take advantage of a gorgeously styled garment at a price that won't break the bank.
Keeping Prices Down
Of course, at Boca Terry we are always attentive to keeping our prices down. Even though we use the most exclusive materials to bring you exquisitely wrought designs, the absence of a middleman in our factory processes allows us to maintain a reasonable cost in order to bring you million dollar products at a fraction of what our competitors are charging.
Attention to the Details
Buying a terry cloth robe by Boca Terry means you are paying attention to the most important elements in the hospitality industry, which are the details. When you select the highest quality, it never goes unnoticed, and in these days of online rankings and reviews, what seems like a mere afterthought can make or break you.
Our Variety of Terry Cloth Styles
Our luxury terry cloth bathrobes come in several styles. Order our Asian-inspired Kimono model and you have a sleek, one-size-fits-all, unisex model that makes every body type look long and lean. The shawl collar model with its fold down cuffs and fold up neckline is a classic that never fails to make every male and female look like a movie star. And then there is the tried and true, always appropriate hooded terry model with its ample hood, its perfect draping, its deep and sumptuous pockets, and its ever-chic look that is contemporary, casual, and appealing in any setting.
Ordering a Selection
Maybe you would like to order a stock of each, which is the perfect way to add variety to the different settings you offer in your establishment. Why not have on hand the Kimono for midnight dinners in your room, the Shawl for an afternoon sipping refreshing cocktails seaside, and the Hooded for in-between spa treatments or for after the sauna or Jacuzzi? With our summer prices you will be able to afford a selection of styles to keep your guests feeling like they are truly in the lap of luxury.
Exceptional Quality Control
All of our Boca Terry robes are made as if they were one-of-a-kind. We have implemented special production and manufacture protocols that ensure that each robe is made with the kind of quality control you would expect from a company such as ours. With detailed inspection, every stitch and every seam is monitored for its impeccability and its durability. We know that our products will undergo many launderings over their lifetime, and we are extremely attentive to their longevity. This, of course, is another way that we make sure to keep costs down for you, eliminating reorders due to wear and tear.
Advanced Processes
Our advanced terry cloth looping processes are evident in the extreme absorption that our robes are capable of, where excess moisture is quickly wicked away from the body. We believe in ultimate comfort and in this regard we know that a soggy robe is as far from a good experience as there can be. All of our terry cloth models are created to keep your guests dry and comfortable, so they can feel as good as you know they deserve to feel at all times.
At the Forefront of the Industry
With a client list that is ever expanding, we are proud to supply some of the top tier establishments in the world with our exceptional Boca Terry robes. This incudes hotels, bed and breakfasts, inns, cruise lines, spas, promotional companies, and even hospitals. Our reputation as a company that cares about each and every piece of material we handle, as well as the relationships we have established with every one of our clients over time is what keeps us at the forefront of our industry. Added to this is our constant effort to remain ahead of the curve when it comes to new technologies that enhance our products.
Adding Your Customized Logo
Keep in mind that when you order your summer specials, it is always advisable to add a customized logo to your robes. Brand recognition is one of the most powerful advertising tools, and of course, helping your guests feel like exclusive members of your club is nothing to sneeze at either! Please feel free to consult with our design experts who can help you create and place the perfect embroidered logo for your terry cloth robes.
A Desirable Keepsake
If you have an online or in-house boutique, having your special terry cloth robes available for sale is a great way to send your guests home with a memento that is both practical and desirable. Perhaps you want to use your personalized robes for promotional purposes at an event or other occasion. Our experts will be happy to discuss the best way to do so, and can design a special event line for you in order to set this occasion apart from the rest.
Contact Us Today
Our online shop makes it easy for you to order any of our bathrobes, as well as our other products such as towels, slippers, headbands, lounge chair covers, and more. Feel free to contact us today to learn more about how you can benefit from the Boca Terry brand. Just call (877) 421-6001.
Share this item with friends