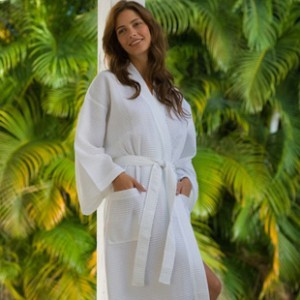 There isn't a person on this planet who would say no to a day of treatments at a spa. No one, no matter where they live or what they do, is impervious to a deep massage with exotic oils or a pampering facial, or even several hours going in and out of the steam bath to get the last remnants of tension out of the body and mind.
Feeling Like a Million Dollars
At Boca Terry we are devotees of anything that says "take it easy," which is evident in the way we craft all of our products. The spa industry has taken note, with so many top tier spas, cruise lines, hotels, and promotional companies buying our luxury spa wraps that cater to relaxation, comfort, and a sense of aesthetics that makes every wearer feel like a million dollars. Wicking Away Moisture,
Holding in Emollients
Made of the finest cotton terry, our wraps are designed to wick away moisture while at the same time hold in the emollients that are necessary for softening the skin. This is why they are so fundamental in between spa treatments. And because they are so easy to put on and take off, they make the transitions completely effortless.
Honing Our Methods to the Finest Detail
In business since 1996, all of these years in the hospitality industry have helped us hone our manufacturing and production methods to the finest possible detail. We continue to do due diligence when it comes to research, always looking for better ways to tailor our products to the needs of guests who deserve the best when it comes to their vacation and relaxation experiences.
Products that Last
At Boca Terry, we mean business when it comes to sourcing the best fabrics possible. We have also trained our craftspeople to be exceptionally mindful when it comes to every stitch and seam. This is why our products last. We know that in the hospitality industry there is so much wear and tear from the countless launderings these items must endure. We spend time perfecting and instrumenting the most advanced looping processes for our terrycloth items so that our garments maintain their pristine look no matter how much they've been washed and dried.
Supplying You With the Best
The durability of these garments is a key factor in helping you save money and we keep the need for replacement re-orders down by using quality materials and manufacturing processes. At the same time, even through we use premium materials, our desire is that you never go over budget in order to supply your guests with optimum amenities. We know that your reputation depends on having the best, just as ours depends on supplying you with the same.
A Variety of Styles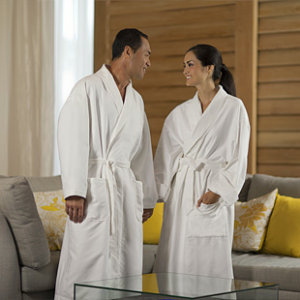 We are running a summer special on wholesale terrycloth spa wraps to make it easy for you to order our products. Our online catalogue makes it easy for you to choose from a variety of styles, all of which are one-size-fits-all and made for both men and women. Every style we create is also made to make every body type look good. At Boca Terry, we know that feeling good doesn't only mean comfortable materials, but also that your guests like what they see when they look in the mirror.
Some of our spa wrap choices include:
• Our 100% combed cotton velour wrap
• Our 67% cotton and 13% polyester wrap
• Our special Microfiber with French Terry lining
• Our 100% organic cotton wrap that fits beautifully into your eco-friendly ethic
You can select a wrap-around with Velcro closure or one of our famous terrycloth bathrobes that wraps around the body with a beautiful belt that fits into one of two loop areas that allows for varying waist height.
These bathrobes come in three different styles:

The Kimono Terrycloth Robe
This is a sleek and elegant Kimono style that speaks of a Zen simplicity and makes for a stunningly elongated silhouette.
The Shawl Wrap Terry
A perennial classic, this robe features a roll up collar that keeps the chill off the neck when coming out of the steam room or Jacuzzi. The roll up cuffs can also be pulled down to keep the hands warm, and the deep pockets are perfect for holding various small items while your guests visit the spa, such as a cell phone and keys.
The Hooded Terrycloth Robe
It is hard to imagine any hospitality setting that ignores this model. The hooded terry is a staple, adding class and practicality to any setting. Whether you choose it to be the all-around robe for your establishment or place it in your spa setting as a stand-out, your guests will revel in the all-encompassing comfort this robe is famous for. Hood up and you have a total cocoon. Hood down with the neck open and you have a sexy poolside wrap that creates a movie star look for everyone.
Your Customized Logo
Of course no wrap is complete without your customized logo to go with it. What better way to advertise your brand than to have our design experts craft a gorgeously embroidered version of your emblem to be placed in a position of honor? And if you have an online or in-house boutique, this is the perfect way for your guests to go home with something that reminds them of their stay with you and to reinforce the delicious moments you helped them enjoy.
Keeping Up in the Rankings
We all know that wraps, robes, and towels are the make it or break it items when it comes to rankings. With guests clamoring to give their online opinions on your establishment, having top-notch products is key when it comes to staying ahead of the competition.
Contact Us Today
At Boca Terry, we want you to remain on top. Please visit us today to take a look at our summer specials and to enjoy a consultation on how we can help you best promote your brand. Contact us by calling (877) 421-6001 or using the form.
Share this item with friends