When people choose to take a cruise, they are making one of the most definitive decisions to really get away from it all. On board, there is nothing else to do but enjoy all the pleasures there for the taking en route to various exotic locations, as they soak in all the sights and sensations.
As one of key ports in the world, Miami hosts some of the most important cruise lines in the world, and Boca Terry is proud to supply many of them with our exquisite line of custom bathrobes. Our robes hang in many staterooms and cabins, and we are finding that more and more orders are coming in for customized spa wraps as on-board treatments become more prevalent and popular.
Fulfilling Function and Aesthetics
Always in demand, our robes are multi-faceted in their ability to fulfill function and aesthetics. No matter what the style, a Boca Terry robe is there to make guests feel like they are indeed in the lap of luxury, which is why so many top cruise lines choose us to help define their brand.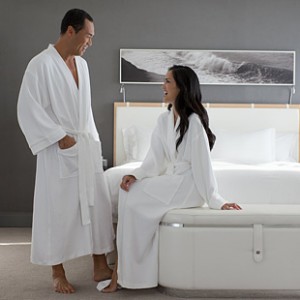 Providing the Optimum Cruise Experience
With its unhurried pace, an ocean liner is the perfect setting in which to enjoy all the amenities you have to give. Now with the spa experience becoming one of the primary activities, this is another area where you can show how your attention to the details defines your dedication to providing guests with the optimum cruise experience.
Designed to Coddle and Comfort
There is nothing more comforting than donning a Boca Terry spa wrap after a massage or other body treatment. Enfolding you in soft, plush fibers, our robes are designed to coddle and comfort. Over time we have sourced the best materials and craftspeople in order to bring our clients a luxurious feel that outdoes all of our competitors. And what is more, our robes are made to endure the countless launderings that will usually wear out a lesser quality product.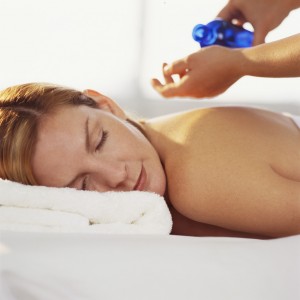 Made to Last
Because our robes stand up to the wear and tear of washing and drying, and because every stitch placed in every seam, cuff, and collar is made to last, they maintain their original form for much longer than ordinary bathrobes on the market today. This means that you are saving money in reorders. We pride ourselves on the fact that most reorders are due to the desire for having even more of our exquisite models as the demand requires.
Creating Memories
When guests choose your cruise line, they will be creating memories for a lifetime. At Boca Terry, we find that bathrobes are always a part of these memories, as they serve as a metaphor for time spent without worry or care. Having your ship's emblem on every robe is a way to remind guests of the exclusivity of your brand. If you have an on-board or online boutique, these robes will become an indelible marker of a perfect voyage long after your guests arrive back on shore. Our design professionals are ready to help you create the perfect logo or design, which can be placed beautifully on any one of our robes.
The Waffle Weave Line
When it comes to selecting a customized spa wrap, we can easily make a few suggestions. One of our most popular styles is our Waffle Weave line. An elegant robe made with diamond or seashell shaped patterns created to wick away moisture, it is extremely lightweight yet enveloping. This is the perfect robe to keep treatment oils in so that they penetrate the skin, softening it once a spa treatment is complete. Draped so perfectly over the body, our Waffle Weave robes look extremely chic over a bathing suit poolside or by the Jacuzzi, giving the wearer a sense of élan no matter what his or her physical dimension.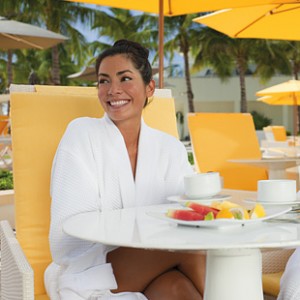 Our Waffle Weave robes come in Kimono, Knit, or Organic styles. Each one comes with double belt loops that allow for waist height adjustment, as well as a loop at the back of the neck for easy hanging when necessary. Order a robe with deep pockets to warm the hands or for safe keeping of keys and other sundries. With your logo embroidered on the front, any one of these models will make the perfect statement of luxury, comfort, and ease.
The Terrycloth Robe
Of course, a terrycloth robe is practically 'de rigeur' when it comes to bathing, lounging, moving from one spa treatment to another, or just looking good with a glass of orange juice in hand. Always classic, you can think all the way back to the glamor days of Hollywood where stars like Cary Grant, Rita Hayworth, and Marilyn Monroe helped make the Terry as desirable as it is today.
The Boca Terry Terrycloth Robe
There are so many adjectives to describe a good terrycloth robe: absorbent and cozy are just two. Our version actually goes beyond quotidian description, as all of our top tier clients will attest to, and as is proven by the constant request for them by cruise lines, hotels, resorts, spas, and the like. Shawl collared, hooded, or kimono style, they are made with the most advanced looping and weaving techniques to create exactly the right balance between form and function.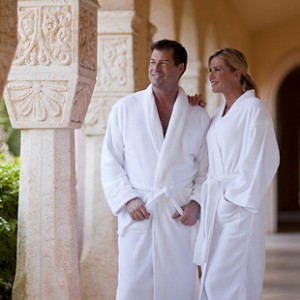 Looking as Good as You Feel
Most people love to spend their day in a gorgeous robe. On a cruise ship where they are constantly on view, whether on deck, by the pool, or in the spa, it is essential that your robes enhance the body. People want to look as good as they feel, and it is obvious that they will be feeling better and better as the days go by. Providing them with a robe that makes each person feel like a star is your way of thanking them for choosing your line over all others.
Contact Us Today
For more information on our customized robes, please contact us today using our online form or by phone at (877) 421-6001.
Share this item with friends