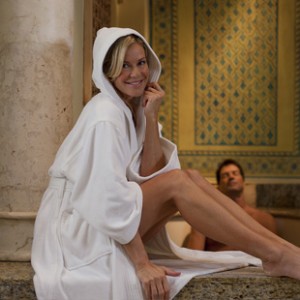 There are two things a ski resort and spa have in common and that is their ability to inspire serious lounging. A lightweight Boca Terry bathrobe is the perfect way to inspire your guests to lay back and relax after a day on the slopes or a serious venture into the world of pampering.
Providing a Great Lounging Experience
We believe in providing only the best quality, and our clients are all responding by spreading the word. With our many years in the hospitality industry, it is no secret that a Boca Terry robe is the apotheosis of what a great lounging experience should be. With your attention to detail and the perfect comfort of every one of those who stay at your resort or spa, we are quite confident that you will be ordering several of our lightweight bathrobes to satisfy the need for the luxurious experience your guests deserve. The Perfect Way to Stay Warm The advantages of our Boca Terry robes are many. Not only are they beautiful to look at, creating a stylish silhouette on any body type, but they are also extremely comfortable and cozy. Coming in from a wintry day or out of a warming massage, the need for something to envelop you in a sumptuous embrace is essential. Wrapping any one of our lightweight and profoundly satisfying robes around the body is the perfect antidote to a cold day or to one who is emerging from a spa treatment.
Variety, Style, and Durability
At Boca Terry we are able to offer you a variety of styles in one-size-fits-all, with special orders welcome for larger or smaller sizes. Created for both women and men, all of our unique bathrobes are made with the highest quality fabrics, expertly sewn and finished, and durable enough to last through the innumerable launderings they must endure in your resort or spa. Here are just a few examples of what you will find on our website:
The Microfiber Robe
Made of 85% polyester with a 15% satin shell, this stunning robe features an 80% cotton poly French terry knit lining that will warm a body to the bones while remaining light as a feather. A perfect length of 52" with 22" sleeves, the Microfiber is made with ample pockets for holding sundries, along with a loop on the inside in the back for easy hanging, and double belt loops for proper waist adjustment according to each guest's dimensions.
The Microterry Robe
This stunning robe is made of 100% polyester and comes in two styles. You can order the Shawl Collar at 52" long or the Kimono at 48" long with 17" sleeves. Enveloping and soft, the Microterry is a wonderful choice for ski resorts and spas where sumptuous comfort is expected.
The Microtec Robe
Order the Microtec in the Pineapple Kimono, Mini Check Shawl Collar, or Pineapple Shawl Collar style and you will be making a unique statement while keeping your guests happy. Our styling is at its best here, with the attention to every stitch and seam we are famous for.
The Micro Chamois Robe
This lovely robe can be ordered as a Kimono or Shawl collar model, providing the same deep pockets, hanging loop, and double belt loops that allow Boca Terry robes to be just right for everyone. Light and silky, the Micro Chamois whispers over the skin even as it so effectively wicks away any extra moisture while keeping in the essential emollients.
The Checkered Cotton Robe
Made of 100% combed cotton, the Checkered Cotton boasts a shawl collar that perfectly warms the back of the neck. With roll up cuffs, this robe is truly movie star chic. You can also order the robe in Kimono style for a sleeker profile.
The Satin Stripe Robe
One of our best selling robes, the Satin Stripe is made of 100% polyester on the outside and is lined with 80% cotton and a 20% soft French terry knit. In Shawl or Kimono models, your guests will be hard pressed to remove them when the time comes to get back on the slopes or massage table.
A Good Robe Makes the Difference
Because we operate our own factories, Boca Terry is able to provide these gorgeous robes at a fraction of the price they would seem to be. Our mission has always been to find a way whereby establishments with any type of budget can afford our products, and without a middleman we are able to do so. To be able to give your guests the best of the best is a luxury in itself, even if you're not a five star resort or spa. When it comes to providing guests with an experience that is a cut above, we are fully aware that a good robe can really make the difference.
The Importance of Customizing
One of the most important aspects of ordering the right robe is customizing it in a way that promotes your brand at all times. When you show your logo or design on every bathrobe you are practicing the easiest and most effective form of publicity. If you have an in-house or online boutique where you can sell your products to your guests, you are providing an even stronger method of reminding them of the good time they had basking in your gracious hospitality.
Being a Part of Your Club
Our expert design and embroidery experts can help you fashion a unique and beautiful logo or monogram if you do not already have one. Any one of our lightweight bathrobes will look even more like a million dollar wrap when sporting your name and colors. And what a perfect way this is to make your guests feel like they are a part of a special and exclusive club!
Contact us today to learn more about our products, including spa and resort accessories that go so well with our luscious bathrobes. We will be happy to assist you in your choices, with a fast follow-up delivery so that you can be ready to present your new line of robes as quickly as possible.
Share this item with friends