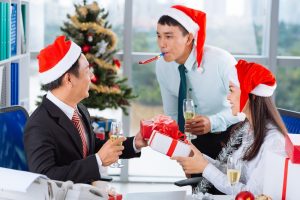 Tis the season for gifting!
Employee satisfaction can go a really long way when it comes to productivity. In fact, workplace culture and employee satisfaction go hand-in-hand so often these days that many companies are poring over anonymous employee surveys to learn where they can improve. The happier your workers, the lower your turnover rate and the better your workflow. One great way to treat your employees with care and respect is by showing your appreciation for them with sweet and simple gifts this holiday season.
Whether it's a holiday gift or just something to show them you care, there are a lot of great options you can offer your workers this winter. Check out a few of these ideas to make an impression:
1. A cozy blanket
A wise person once said, "You can never have too many blankets." And rest assured, we agree wholeheartedly. A blanket is the perfect accessory for unwinding, keeping warm, and feeling stress-free. In other words, everything you want your employees to be, whether they're in or out of the office. A fresh, white luxury waffle blanket is a great holiday gift — because who really needs another coffee mug with a chocolate-covered pretzel log anyway?
2. Team happy hour or a gift card to their favorite restaurant
Food is something that brings people of all backgrounds and ages together. Share an evening bonding together by bringing your employees out, or let them treat their loved ones and themselves with a gift card to their favorite place. Either way, food speaks right to the heart, and it's bound to make them feel cared about!
3. A big and bold bathrobe and slippers
Show your workers how to really relax with the gift of a bathrobe and slippers. Soft, cozy, plush, and a great way to unwind after a long week of work, this is the ultimate combination for happier, healthier workers. Best of all, you can customize affordable luxury Boca Terry bathrobes with your logo, so they can sport your company's brand wherever they go in their regal robe. Want to make it even more personal? Go with a monogram instead, to show them how special they are.
If you want to go the extra mile, make an entire spa kit, including face masks, scrubs, essential oils, and chamomile tea. These additional pieces to the puzzle aren't pricey, but they can go a long way in aiding your employees with relaxation. Hello, happy team members!
We know exactly where you can find cozy luxury bathrobes and spa accessories to stock up on this winter. And best of all, they're manufactured to be high quality, yet affordable. Check out our styles online and contact us with questions or to place your wholesale order. We'd love to hear from you!
Share this item with friends