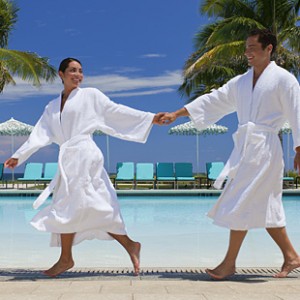 The appeal of a terry cloth robe is universal. As a cozy way to transition from a pool, jacuzzi, bath, or shower before fully drying off, it is casual yet not as intimate as many other types of robes. Many of the leading luxury hotels and spas worldwide offer terry cloth bathrobes as a courtesy to their guests.
When you wear a terry cloth robe, you can be seen in public, with the implication that you are in the midst of lounging and nothing else. It is a way to cover up, a way to avoid putting on clothing, and a great alternative to wrapping a mere towel around you when you want a little bit of warmth and comfort.
Terry cloth robes have an intrinsic wicking property that draws water away from the body and into the material. The length of the loops determine how much water the robe can absorb before it becomes too damp to wear. And when it does, off it goes to easily hang up to dry.
A terry cloth robe never goes out of style. It is classic, no matter if it is made like a kimono or has a shawl collar and roll up cuffs. At Boca Terry, we make both models and have found that they are some of the most popular models in our diverse line.
As a company dedicated to helping clients from the hotel and spa industries supply their guests with the very best robes, towels, and accessories, we are well aware of how essential terry cloth robes are for luxury hotel chains. They speak volumes of how you care for your guests' sense of well being, and with your customized logo or initials embroidered on them, they will never forget the time they spent at your hotel.
Many guests choose to purchase a terry cloth robe from the hotel or spa they visit for this very reason. Owning an item that represents a luxurious holiday, honeymoon, or weekend getaway is a way to emblazon the experience in the memory and relive it each time the robe is worn.
At Boca Terry we pride ourselves on our exquisitely designed and manufactured robes. Our reputation for undivided attention to detail is proven in the high quality warp and weave of our terry fabrics, assuring great capacity for absorption.
We know that the hotel business requires robes and towels to be washed many more times than in smaller businesses or in private use. Because our materials are made with the best fabrics, they can withstand thousands of washings without wear and tear, which preserves their integrity while saving you money.
Lightweight and comfortable, our terry cloth robes for men and women make an excellent and essential choice for luxury hotel chains that provide their guests with a haven in which to relax in complete ease.
For more information on our many designs as well as how to customize your terry cloth bathrobes, please contact us via our online form, which can be found at http://50.97.39.122/~bocaterry/contact-us or by calling 877.421.6001.
Share this item with friends