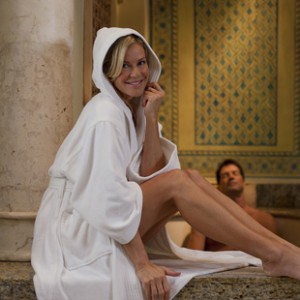 What is Terry Cloth?
Terry cloth is a fabric that is made of many tiny loops, recognized for its ability to absorb water. It is usually made of 100% cotton. An important aspect of terry cloth is that the length of the loops determines the amount of water that can be absorbed. Today there are many alternatives to the water absorbing terry cloth, including waffle fabric and microfiber. However, nothing can compare to the richness, texture and water absorption quality of terry cloth.
Is All Terry Cloth Equal?
Terry cloth fabric is measured by ounce, and the size of the ounce can make all the difference when it comes to comfortability and function. Therefore, the weight of the fabric is a very important detail to pay attention to when deciding on any item made of terry cloth. When the words terry cloth are mentioned, a few specific items come to mind, such as towels and bath robes. Both of these items are very personal items and it is therefore very important that they be of the best quality.
Cocoon-like Comfort
Admit it, nothing feels cozier than a hooded bathrobe. And nothing is more functional than a terry cloth bathrobe. So what could be better than a bathrobe that is both hooded and made of terry cloth? In fact the hooded terry cloth bathrobe is the ultimate bathrobe when it comes to comfort. It offers a cocoon like feeling of warmth and security and because of its water absorbing qualities it is the best option to slip into right out of the shower.
What is the Best Robe for the Job?
As a spa or hotel manager it is your job to choose the best bathrobe to meet the needs of your clients. And when making that decision, terry cloth hooded robes are just the right choice. They offer the comfortability and functionality that your clients will be looking for and expecting you to provide. Don't disappoint them.
Personalization
Additionally, terry cloth hooded bathrobes can be made even more special with a personalized monogram or embroidered logo. Personalization is an available feature that you should consider when ordering bathrobes for your company or as gifts for friends and family. Set your spa above the rest by offering bathrobes that are embroidered with your logo. Each time your guest slips into a bathrobe she will see your logo and it will serve as a reminder of comfort and excellence.
Why Not Buy Wholesale?
What better way to ensure the best option for your clients and the best financial option for your company than by purchasing your supply of bathrobes at wholesale prices? You will get the best of both worlds, and the savings that you will gain from buying at wholesale prices will enable you to increase other aspects of comfort for your guests. It is a win-win situation.
When it comes to terry cloth, you can feel secure to go to your trusted source for luxury bathrobes, Boca Terry. Please contact us Toll-free at 1-877-421-6001 or by filling out the form at http://50.97.39.122/~bocaterry/contact-us so that we can help you find the right bathrobe for your needs.
Share this item with friends