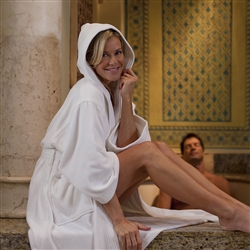 Sumptuous, luxurious, classy, classic, all enveloping, sensual, stylish… these are just some of the adjectives used to describe a Boca Terry bathrobe. We accept them all, and want to add a few of our own: affordable, long lasting, unique.
Making a Fashionable Impression
We all know that the terry cloth robe has been around for a very long time. Ever since the late 19th Century, men and woman have been donning terry cloth robes for not just practical reasons, but also to make a fashionable impression by the pool, in the spa, or lounging around the home.
Sexy and Glamorous
Sexy and glamorous, just take a look at the quintessential film of 1939, The Women, to see Norma Shearer in that long, white, monogrammed terry with those impressive padded shoulders. Designed by Adrian for MGM, this might have been the first of its kind, and women from all over the nation clamored for one of their very own. When Joan Crawford, a costar in the film, saw the robe, she insisted that Adrian create one just for her, which of course he did.
The Essence of Hollywood Style
The essence of Hollywood style, the 1930's was the beginning of the terry cloth robe's entrance into fine hotels. Show up at the Crillon in Paris or the Connaught in London and you would surely find a thick terry waiting for you as you shed your couture threads. If you looked around on the beaches, you'd also be very likely to see Zelda and F. Scott Fitzgerald, Cole Porter, and other members of Monte Carlo café society sporting terrys of their own.
The Sine Qua Non of Movie Star Elegance
Scandalous and Avant Garde, wearing a terry cloth robe broke with the rules, as satin and velvet were always the robes of choice for the rich and famous. But with the advent of some great yet simple styling, the terry cloth robe was fast becoming the sine qua non of movie star elegance.
Synonymous with Sensuality
Adrian designed another eye-catching terry for Katherine Hepburn in The Philadelphia Story with Cary Grant and Jimmy Stewart. Lana Turner wore one in The Postman Always Rings Twice, and then Marilyn Monroe immortalized the bathrobe in her Life Magazine spread, making it synonymous with sensuality.
How Terry is Made
The terry cloth robe is typically a pile cotton fabric made with a looping technique that allows for a large amount of absorption when it comes to moisture or liquids. The manufacture of terry cloth is accomplished by either weaving or knitting. Our terry cloth robes are made with the finest attention to detail. We use sophisticated manufacturing protocols that create the softest nap that delivers exceptional absorption, always helping you feel dry and comfy. Chic and sleek, our terry cloth bathrobes are designed for both women and men in an easy-to-order one-size-fits-all size, with plus size orders available when needed.
Standing Up to Every Test
When you buy Boca Terry terry cloth robes, you are buying a robe that can undergo countless launderings, as is always essential in the hospitality industry. Whether you are a hotel, cruise line, spa, hospital, or other similar establishment, our robes stand up to every test.
Exceptional Styling
One of the signature advantages of our luxury robes has to do with their exceptional styling. Coming in an all-enveloping hooded model, with a shawl collar and roll up sleeves, or a sleek Asian-inspired Kimono look, they all share impeccable detailing in their production. Our attention to every stitch and seam, let alone the quality of our materials, is a guarantee that your Boca Terry robes will keep you high in the ratings as you supply your guests with the very best.
Advertising Through Your Logo
Today we see how it is not enough to present your publicity and hope for the best. Most establishments that deal with hospitality are like all other businesses, hoping to place their brand at the forefront of the industry. What better advertising than personalizing your terry cloth robes with your unique logo or design?
Customizing Your Purchase
Boca Terry features a staff of specialists who will help you customize your purchase to the thread. This means that we will consult with you regarding how best to feature your brand, including through the use of our exquisitely created embroidery that makes each robe look like one of a kind.
Speaking Volumes About Your Hospitality Ethic
When it comes to treating your guests in the way that they deserve, providing them with a personalized and glamorous terry cloth robe will speak volumes about your hospitality ethic. Comfort, practicality, and a great look all combine to let the wearer know that he or she is valued.
Feeling Elegant and Chic
With their impeccable drape, our robes are created to make everyone feel elegant and chic, no matter what their body type. Whether a person is a skinny mini or an ample plus size, wearing our hooded, shawl collar, or Kimono terry style is a way to lounge like a movie star and feel like a king or queen.
Spreading the Word
Most hotels and spas now have their own boutiques, whether in-house or online. Offering a Boca Terry robe that has been personalized with your brand logo is an ideal way to advertise. Taking home one of your specialty robes, or providing them as gifts, is a way for your guests to spread the word about your gracious hospitality. And of course, having your logo emblazoned on the front allows the wearer to feel like he or she is a part of your special club.
Ordering Online
Ordering our terry cloth personalized robes online is easy. We have a beautiful catalogue that you can view to decide which models suit your needs. You can contact us with any questions you may have about customization or special orders, as we are always available for consultations and advice.
Share this item with friends