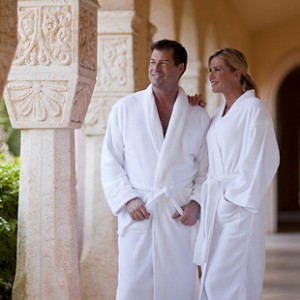 In the cold, damp autumn forest, a motherly doe cuddles with her feeble fawn while a massive, strong buck wards off predators with his powerful antlers. While this may sound like a generalization, take a long walk through the great outdoors and observe nature. You will notice that female animals are often tender, smaller creatures than males in their species. Just as nature would have it, women are often generally considered a more gentle, soft, and subtle creature than her male counterpart. With this in mind, an appropriately engineered robe to suit all of her needs is a must!
What Women Want
We pride ourselves in delivering outstanding products to clients and customers. This led us to consider: What do women want? When we couldn't find our answer in the classic 2000 romantic comedy, we decided we must pave the way for ourselves.
Quality
We understand that consumers often consider texture, softness, and overall comfort when choosing wardrobe items. A terry cloth robe designed to meet the needs of women everywhere should feature outstanding quality fabric. This is an important implication of the overall excellence of a product. Our robes are durable, like the nonstop, busy moms at your spa who are ready for a soothing day in our soft, comfortable robe. All materials utilized for Boca Terry bathrobes and spa products are woven at our factories, totally vertical from yarn purchase through weaving. This means that our cloth is made specifically for us, and we have the ability to control the standard of our product. Our quality will always be the absolute best we can attain.
Luxury
When deciding to treat your female customers with a little extra comfort, remember: the more luxurious, the happier she will be! We know she will love our classic shawl collar robe, as it is everything that a consumer wants in a robe. With double belt loops for adjustable belt height, generous pockets, hanger loop for easy storage, and cozy roll-up collar and cuffs, it is designed with all guests' comfort in mind. Soft and delicate, this robe complements your guest's spa visit. Plush, but not bulky, this robe will make every woman (well, everyone, for that matter) feel relaxed and soothed.
Budget-Friendly
Many women love saving money and finding a great deal (just ask these Extreme Couponing queens). We do everything in our ability to ensure the lowest cost of our products. Because of our direct relationships with factories, we are able to acquire the best quality product made through the best executed production, at competitive pricing. Our customers and clients benefit from our excellent products at excellent prices. When you lower the cost of supplies, you lower the price you have to charge your guests to enjoy your accommodations! We know that whether she is shopping for herself or she is the purchasing manager for her large sorority, she will not be able to resist our outstanding deals!
It's All in the Science
Believe it or not, women tend to feel colder than men do while sitting in the same room. You may have noticed the thermostat battle in your own apartment, but did you realize there is proof to back it up? According to CBS News, "When it comes to women compared to men and temperature settings, more often than not, women will say they feel colder. Turns out, there's a biological explanation behind this. Women conserve more heat around their core organs, which means less heat circulates throughout the rest of their body" (CBS). We realize that we cannot do much to change her genetic outcome, but we can make sure that she is warm and cozy, especially through the cold winter months! Our hooded bathrobe is the perfect choice for chilly ladies. Featuring 100% combed cotton terry, and an extra large hood, this robe will help keep the warmth from escaping you or your loved ones! Ski resorts and other hotels in cold climates should take note; impress your female guests!
Recurring Trends
Remember in elementary school when you had your name embroidered on your backpack? Plus, everyone recalls the outrageous number of patches you had scattered across your jean jacket back in high school! Embroidery is still popular today among women. When buying one of our soft, fluffy robes for your mother, you want her to feel special. Show her this is not just anyone's robe! Embroidering her name onto her brand new robe will allow her to feel even more royal than she will the moment she first puts it on.
Not Girly Enough?
If you are looking for something more feminine, take a look out our pink kimono satin bathrobe. Yes, we said pink! Perfect for a cute birthday gift, as a gift to bride/bridesmaids, for Valentine's Day, or for Mother's Day, this feminine robe will be the perfect touch to accommodate your girly guests. Perhaps your company is looking to bring awareness to breast cancer this upcoming October. Do not neglect to provide guests with this robe, promoting pink! Women are not only delicate, soft, and gentle; women are also strong and brave survivors!
Read one man's tips on how to buy your wife a bathrobe!
Think of Her
The women staying at your establishment (or those in your personal life) will be thankful for your careful consideration of her interests. Remember, Boca Terry is the one-stop shop for all of your robe, towel, and spa accessory needs!
To order wholesale items or to learn more about our wholesale pricing, contact us today!
Works Cited
"Why Do Women Feel Colder Than Men?" CBSNews. CBS Interactive, 08 Feb. 2011. Web. 16 Apr. 2014.
Share this item with friends