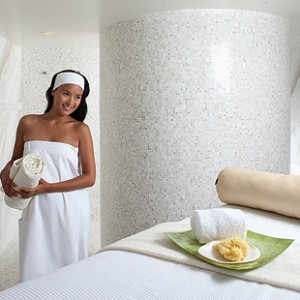 Everyone loves the feeling of terry cloth. Whether it is a towel or a bathrobe, terry is a fabric that absorbs moisture the best, while also giving you a sense of comfort. Wrap yourself in a terry cloth robe and you feel like everything is all right.
Terry Cloth Specialists
At Boca Terry, we are considered terry cloth specialists. We have in fact perfected the looping process when it comes to this fabric, using long strands of the best material to bring you robes and towels of the finest quality. No wonder we're known as The Luxury Company when it comes to supplying the hospitality industry with top tier products.
Total Freedom and No Slippage
As most of you know, terry cloth is not limited to robes and towels only. We have taken the material and made it into a beautiful wrap that satisfies the need to have a lightweight yet substantial fabric around the body. Unlike a robe, a terry cloth wrap allows the arms and legs to be free. And our special terry cloth wrap for women is just the thing for allowing you the freedom to move about without the worry of slippage.
A Selection of Towel Wrap Fabrics
We have several types of towel wraps for women. One is a 100% combed cotton velour made with 67% cotton 13% poly waffle and is as soft and cozy as a second skin. Another is a 100% poly microfiber with a sumptuous French Terry cloth lining. And then there is our 100% organic cotton model that mirrors our commitment to eco-friendly fabrics.
Hypo Allergenic and Green
As the demand for hypo-allergenic fabrics increases, with more and more clients becoming sensitive to Green practices, we are constantly expanding our line of wraps, robes, and towels to include organically grown and consciously produced merchandise. This means that the cotton we source comes from non-GMO seeds, is grown without the use of pesticides or fungicides, and is manufactured without resins, bleaches, or other toxic chemicals.
For Sensitive Skin and Allergies
For those of you with sensitive skins or allergies, our organic cotton terry cloth wraps are the way to avoid any complications. Soft, sensual, and comforting, they wrap around the body like a cloud.
The Perfect Fit
All of our Boca Terry towel wraps are made in a one-size-fits-all, with plus sizes available on order. Our women's version comes in a standard 32" length, extending from just below the armpit to just above the knee.
Customizing With Your Logo or Design
One of the best ways to make the most out of our beautiful wraps is to customize them according to your logo or design. If you are in the hospitality business, having your brand's signature monogram on every towel wrap is like having the perfect portable billboard. Let our Boca Terry design experts help you find exactly the right way to display your hotel, spa, cruise line, or casino and your guests will do the rest as they wear them.
Personalizing Your Effects
If you are a retail customer, ordering a towel wrap with your initials on it is a wonderful way to personalize your effects. You can also order our towel wraps with special designs and monograms that commemorate a special event, such as a baby shower or wedding party.
A Great Promotional Gift
If you are a promotions company, our towel wraps make great giveaways. Advertise them to your clients who can make the most of this simple and stylish item sporting their customized logos.
Easy, Easy, Easy
A towel wrap is easy to pack, easy to put on and take off, easy to wash, and easy to wear. For these reasons it is one of the most sensible items to have in your armory of luxury items. When you offer a customized Boca Terry wrap you show your guests that you think of everything, because sometimes people want something other than a robe and a little more than a towel!
Keeping Costs Way Down
Whether it is for in between or during spa treatments, to wear poolside or at the wet bar, or to wrap around you as you get in and out of the shower, a terry cloth towel wrap is the perfect extra something that you can offer. And because our company operates with no middleman, we are able to keep our costs way down, allowing you to order a supply without exceeding your budget.
Withstanding Wear and Tear
Our terry cloth wraps are also affordable because they are made to withstand the wear and tear of constant launderings. In fact, all of our merchandise is made to last, which helps you cut down on your need to reorder. Because of our expert looping and sewing methods, every fiber that composes our terry cloth items is as strong as can be, maintaining its structure throughout its long lifetime.
The Meaning of Excellence
With a dedication to quality, we stand by the integrity of our merchandise, which is what contributes to our ever-growing reputation as one of the premier suppliers of wraps, robes, towels, slippers, and other products to the hospitality, spa, cruise line, casino, hospital, promotions, and retail industries. Boca Terry has come to mean excellence, which has been the intention of its founders since the day we opened our doors to the public so many years ago.
Contact Us Today
For more information on our terry cloth wraps for women, as well as our other impeccable merchandise, please contact us today!
Share this item with friends