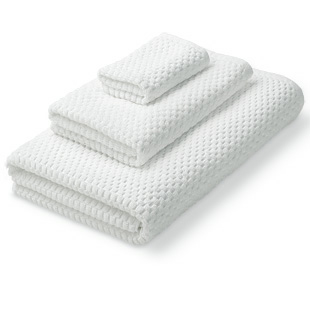 Dedicated to creating sumptuous towels that match our exquisite line of bathrobes, along with additional products for the hospitality industry, we at Boca Terry are not shy about our love for all things sumptuous. Providing you with the best collections is our way of helping you rise to the top as you perfectly fulfill your guests' expectations.
Sourcing the Finest Fabrics
The lavish care we take to creating top-tier terry towels is evident in our two collections, the Resort and the Sunny Lane. Using the finest fabrics sourced from the best producers of cotton, we can say that our towels are certainly the best around.
Cheap Materials Don't Pay Off
It has become redundant to talk about the economic downturn we've been experiencing in the last few years. But it is important for us to note that considering cheaper alternatives to compensate for this state of affairs just doesn't pay off in the long term.
Towels as the First Measure of Quality and Care
Your guests expect the best when they stay at your establishment, and your towels are the first measure of quality and care. Not an area where compromises should be made, your towels speak of your attention to detail and your commitment to providing a million dollar experience when it comes to the comforts of life.
Extreme Durability
Because a Boca Terry towel is made with extreme durability in mind, buying from us saves you money in the long run. You don't have to worry about our towels wearing thin or losing their absorbency as they are created to withstand the thousands of launderings they must undergo.
Selecting Only the Best
We start out selecting a premium quality cotton, paying attention to the staple, which is the average length of fibers in a group. We know that the finest cottons are found in specific regions in the world, much like wine, and we select the best from countries like Turkey, Egypt, and now China.
Removing the Imperfections
When it comes to towels, the difference is felt through its weight and pile. A good towel has an even texture to produce the optimum in absorbency, with attention to the shearing process to ensure the best removal of loop tops to create a fine finish. At Boca Terry, we shear our loops a second time to remove all imperfections, producing a velvety smooth finish that makes all the difference.
Great for Giveaways and Promotion
Because a good towel can last for years, there is a tremendous growth in this sector of the hospitality industry, especially as it relates to giveaways and promotions. A terrific choice for event planners, we recognize that great towels send the perfect message about your brand, and are the ideal item for beach and pool parties, as well as sporting events and other similar activities. Add your logo and your towels are better than a business card.
Attending to the Details
Boca Terry Terrycloth towels are a perfect indication of how you attend to the details when it comes to customer care. When your towels look and feel like a million, your guests will too, and this will be something they remember when they want to book another vacation or recommend a hotel or spa to their friends.
Perfecting Our Manufacturing and Production Processes
We have spent many years perfecting our manufacturing and production processes. Our attention to a tight looping process for durability and absorbency, along with exceptional stitching that is made to last are what continue to ensure our reputation as one of the foremost providers of towels and robes in the hospitality business today.
Impeccable Service in Every Area of Expertise
Standing by our mission to provide the very best, we leave nothing to outside sources when it comes to our products. We source every single element that goes into creating our merchandise and train every member of our staff to provide impeccable service in their area of expertise.
No Middleman
Our distribution centers in Miami, Los Angeles, and Hong Kong allow us to provide prompt delivery anywhere around the world. With factories in China, Columbia, India, Pakistan, and Turkey, we pride ourselves on having no middleman to interfere with the low prices that we set so that you can afford luxury products that will help your establishment exceed expectation.
Fine Towels with a Custom Logo
When you decide to customize your Boca Terry towels with your logo or design, you will get the best advice and execution from our design professionals and our exceptional craftspeople. As a beautiful embellishment, an embroidered emblem is the best way for your guests to remember you. If you sell your products at your in-house or online boutique, you have a way to prolong your guests' experience by allowing them to bring home a set of fine towels with your custom logo there to remind them that they are members of your special "club."
The Boca Terry Towel Collections
Our terry towel collections are both classic and highly functional. Take a look at our Resort Collection, with its beautiful pile and borders. The Sunny Lane Collection also boasts a wonderful 100% combed terry finish in a borderless style. Both collections consist of the following:
Wash Cloth 13 x 13
Hand Towel 16 x 30
Bath towel 16 x 30
Mat 20 x 28
Bath Sheet 35 x 70
Making People's Lives Better
Boca Terry was established in 1996 by Bruce and Edward Cohen to provide the hospitality industry with excellent robes and towels in service to enhancing our clients' brands. Some of the top tier hotels we supply are the Ritz Carlton, Raffles, the Four Seasons, the Golden Door Spas, and other 5 star locations across the United States, Europe, and the Far East. From large hotel chains to intimate bed & breakfasts, we are proud to be a part of making people's lives better by giving them the best experience we can.
Contact Us Today
For more information on our terry towel collections, along with our bathrobes and other products, please feel free to contact us today using our online form or by calling (877) 421-6001.
Share this item with friends