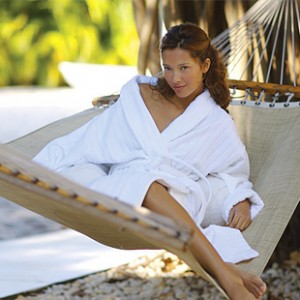 Whether you wish to feel as elegant as Queen Cleopatra, or wrap yourself in cloth that feels as fresh and vibrant as a plush carpet of spring flowers, simply step into the world Boca Terry, where their terry velour bathrobes are an incomparable offering of comfort, luxury and functionality.
These comfortable and gorgeous robes are made with the absorbent terry cloth on the inside, and the velvet-like velour on the outside. The rich velour fabric used is a stretchy, knitted cloth, allowing for great freedom of movement for the wearer. Dancers often use this type of fabric to make their costumes, as it sways and flows beautifully without restriction. Combined, the terry velour fabric is a soft, silky-smooth treat for the senses.
Created by Boca Terry with complete relaxation in mind, donning one of these luxurious bathrobes for women will instantly transport the wearer to a place of warmth and comfort on a crisp, cool night. During the warmer seasons, a light cottony robe will keep you cool.
One of the lovely things about these terry velour bathrobes is the amazing variety available in customization from Boca Terry, ensuring that there is a style suited for every woman and any season. These cozy women's bathrobes come in many fabulous cuts and styles. No matter your choice, you can be assured that you will find something you will not only like, but absolutely love! There is the basic kimono cut, renowned for its grace and practicality, and with just a touch of creativity added to make your bathrobe into a work of art.
Although these ladies' bathrobes are elegant as is, you can choose to style it up with other innovative cloth patterns, such as a checkered or stripe pattern, which feel every bit as great as they look. Another beautiful choice is the mini stripe, which is wonderfully absorbent as well as pleasing to the eye. There's also the shawl and knit waffle pattern, which are both tastefully designed, feel fabulous, and are flattering on any figure. There is also like the chic microtec pattern.
For a thick, warm feel, try the microterry robes, which are sure to keep you as snug as you'd be next to a cozy fireplace as you step out of the shower or spa. Microterry robes ensure your comfort and warmth with every step taken from the warm embrace of the water.
There are other flourishes to choose from, including pockets, which often come in handy, especially for warmth, practical hanger loop for storage anywhere, different types of belt loops, including the adjustable variety. For particularly cold times of the year, why not experience styles with an added hood for extra warmth.
No matter the style or pattern, Boca Terry takes great care to ensure that their terry velour bathrobes meet the highest of standards in every aspect. They are gentle on the skin, easily glide on and off, allow flexibility of movement, are stylish, and most importantly, look amazing on anyone. Contact Boca Terry today and view their complete catalogue of products and options at www.bocaterry.com today.
Share this item with friends