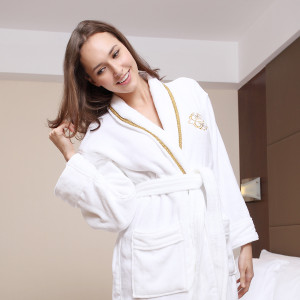 Some of our prize products at Boca Terry are our famous terrycloth bathrobes and towels. With a range of different styles in our catalog, we are proud of our reputation as luxury makers of products that are synonymous with an eternally popular fabric that lends itself to a multitude of uses.
Appropriate for Any Situation
With its universal appeal, terrycloth robes exhibit a casual style appropriate for any situation. Never anything but a-la-mode, they are not only sublimely practical, but also are made of one of the most comfortable and soothing fabrics ever created. And of course, terrycloth towels are known the world over for their efficiency, whether they are for the hands or the body.
A Little Education on Terry
So what exactly is terrycloth, and how is it made? We're always eager to educate our customers, so let us present you with a little bit of information on this wonderful material:
A Cloth of Many Loops
Terrycloth is differentiated from other types of fabrics by the many loops that make up its surface. These loops are responsible for absorbing moisture, making the fabric ideal for keeping you dry and comfortable after a shower or a dip in the pool. How much water is absorbed is determined by the length of these loops, with the longest providing the most efficient function.
The Dobby Loom
Terrycloth is made of either cotton or a cotton polyester blend. The loops are made on what is known as a "dobby" loom, which is a special structure that creates the perfect amount of thread tension. The dobby loom is responsible for helping to create the soft, plush texture we come to associate with a high quality terrycloth robe or towel.
Warping and Weaving
Threads are woven using two warp beams, with one forming the base and the other used to create the loops that give terry its texture. Applying a warp and weave technique, latitudinal threads known as filler are woven under and over longitudinally places threads to make the finished fabric. When the filler is pressed down, the slack that results is what is responsible for making more loops, which ultimately wicks away excess moisture.
Bleaching and Dying
Terry can also be knit, but at Boca Terry we prefer to use a state-of-the-art weaving process in order to produce the sumptuous robes that exemplifies our brand. Often after the fabric is created, it is then bleached white by using a hydrogen peroxide based chemical. It can also be dyed after this process if color is desired.
Retaining Its Appeal Through Time
Industrial terrycloth has been manufactured since mid 1800's and still retains its appeal through its incredible durability and practicality. We have been creating robes since we opened our doors in 1996, constantly evolving and perfecting our products in order to bring our clients the absolute best.
A Wide Variety of Styles
Terrycloth robes can be made in a wide variety of styles, with one just as classic as the next. Our elegant shawl collar with roll up sleeves and sumptuously deep pockets is a popular standard with many of our hotel, spa, resort, casino, and hospital clients. The svelte kimono style with its lean silhouette creates an infallible elegance for any body type, male or female. And then there is our famous hooded terry robe that keeps the wearer toasty from the top of the head to the tip of the toes. With double belt loops on all of our robes that allow for waist height adjustment, and a convenient loop on the inside of the neck for easy hanging, our robes are in constant demand for their quality and design.
Our Fabric Choices
Boca Terry terrycloth robes are made with the following fabric choices:
100% combed cotton velour
67% cotton and 13% poly waffle
100% poly microfiber exterior with a sumptuous French Terry cloth lining
100% organic cotton model created with non-GMO seeds, no pesticides, fungicides, bleach, resins, or other toxic chemicals
The Beauty of Organic Terrycloth
Our organic terrycloth robes are fast becoming the most popular, as many of our clients are opting to go Green. Staying in harmony with an ethic to use natural products, they are choosing our perfectly made organic cotton fabric, which offers guests a completely hypoallergenic garment, so perfect for sensitive skin.
Our Factories and Warehouses
Boca Terry has numerous factories all over the world where employees are highly trained in order to assure the quality that is inherent in the Boca Terry Name. With warehouses in Deerfield Beach and Miami, Florida; Los Angeles; London; and Hong Kong we are able to deliver our merchandise quickly throughout the United States, Europe, and Far East.
Standing Up to Wear and Tear
Because of our respect for the integrity of a good terrycloth robe and towel, we pay special attention to every aspect of production in order to make sure that the fabrics will stand up to all of the wear and tear ingrained in the hospitality industry. Many launderings will weaken a poorly made fabric. We are adamant about creating strong materials that stand up to the test of time.
Staying Affordable 
We try to be as sensitive as you are to your bottom line, and knowing that you will not have to reorder a robe or towel for any other reason than your desire to have more, is a part of helping you save money. Additionally, because we have no middleman, we are able to keep our prices down, allowing you the luxury of having top-tier products at a cost you can afford.
Share this item with friends