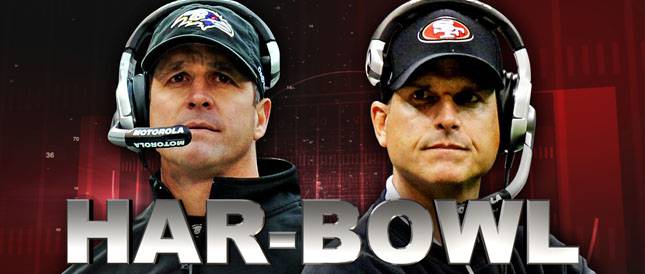 On February 3, 2013 we're going to see one of the most historic Super Bowl Sundays in a long time. With the San Francisco 49ers set against the Baltimore Ravens, New Orleans is the place to be, whether you're there in the flesh or sitting in front of your TV.
Making History
This isn't just a head to head against two great teams. Unless you've been under a rock, you know that this is the first time that two brothers are coaching against each other in an NFL Super Bowl game. And those two brothers would be head coach Jim Harbaugh of the 49ers and John Harbaugh, head coach of the Ravens.
Competing For the Ultimate Reward
In 2011 the brothers made history facing off during a Thanksgiving game. But this year is far different, with the stakes higher and the excitement building to fever pitch with a championship at stake and two very vibrant coaches to watch as they compete for the ultimate reward.
Standing to Win or Lose
Just 15 months younger than John, Jim is always great to watch as he is as excitable as he is demonstrative. And there's going to be good reason to see some of his antics at this historical game. John is more staid, but we have a feeling that he's going to give an equal performance as the two stand to win or lose with the eyes of most of the world on their outstanding teams.
Avid Fans
We're big fans at Boca Terry, which is why we're on tenterhooks, waiting for the kickoff at 6:30 PM on the 3rd. This competition is not just about rival siblings trying to beat each other at the biggest game of all. With Ravens' linebacker Ray Lewis and 49ers quarterback Colin Karpernick, we have a feeling it's going to be by-the-seat-of-your-pants all the way through.
So where do we fit in as a luxury bathrobe supply company, besides being avid fans of both teams?
Relaxing in the Aftermath
We're here to send a message to Jim and John that no matter who wins, wearing one of our Boca Terry robes after a super bowl that's bound to have everyone wound up to the nines, is the perfect way to wind back down and relax. Our advice after so much tension is for the brothers, or someone in the family, to order two matching, exquisitely crafted robes and make sure they're ready for wear as the rival coaches settle down with some beers and a congratulations, no matter what the results.
Celebrating in Style
Sure there's going to be a lot of paparazzi around, and wouldn't it be the coolest way to celebrate a game that's sure to be brilliantly played, in deep plush Boca Terry terrycloth robes? Imagine these guys on the cover of any sports magazine, showing their fraternity as they kick back some brews wearing a luxury bathrobe that exudes style.
Contact Us
For more information on how to order your own Boca Terry robe for watching the game: http://50.97.39.122/~bocaterry/contact-us
Share this item with friends