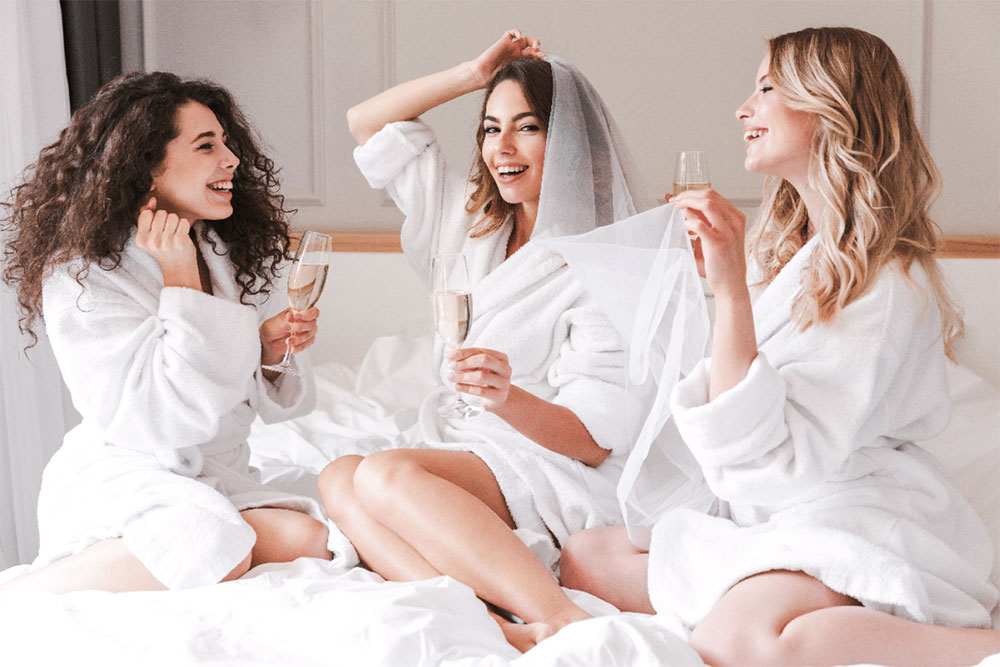 There's an evident allure to bridal loungewear and, as of recent times, those coveted behind-the-scene garments have become almost as equally important as the gowns and other indispensable nuptial accouterments. Whether you're opting for the delicate silk/satin textures or the luxuriously pampered feel of a soft microfiber or velour, the inherent intimacy of a robe will be one that's essential to the experience adding softness and embracing comfort. Want to make it even more special? Add a customized monogram to solidify the occasion! This is the ultimate roundup for 2019: the best bridal robes and slippers for that special day – or what you'll come to remember as "the happiest day of your life."
1-Undeniably feminine
Start (and end) your big day in the silky, remarkably airy Satin Kimono Bathrobe — the perfect excuse to feel pampered, playful and sexy!
2-Understated elegance
The casual yet elegant microfiber bathrobe features a plush microterry lining and roll-up collar and cuffs, setting a new standard for comfort and keeping you snug with your new hubby.
3-Flirty foot play
Set a playful tone in these perfectly-cushioned open toe spa slippers. Kick back and have a blast in this welcoming and long-lasting pair.
4-Incredibly cozy
Nothing is more "snuggable" than our incredibly soft Velour Bathrobes with their warmth and signature soft texture. Cuddle up and feel the love!
5-Go green
For uncompromising performance and comfort, these 100% certified organic cotton robes are second to none. You'll notice the natural difference and your skin will thank you for it!
Share this item with friends