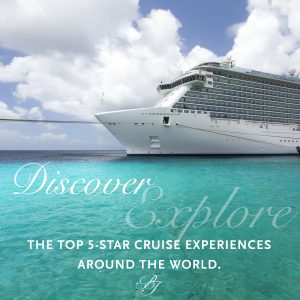 Each one of the world's best cruises delivers a unique, multidimensional experience. These larger-than-life, luxury cruise lines offer each seafaring traveler a sense of adventure and a well-deserved vacation on the open water.
Viking Cruises
Two of Viking's 930-passenger ships, The Viking Star and The Viking Sea, offer something exceptional for every guest, from an outdoor gym and yoga area to free wifi and a full-size balcony in every stateroom. In addition, the cruise line's on-board restaurants invite all Viking passengers to enjoy tempting menus that pay tribute to the most luscious cuisines from around the world.
Princess Cruises
One of the top cruise experiences, Princess Cruises are a must-try for every hardcore Love Boat fan. Guests can even watch the entire series all over again while on the ship. The new glass-bottom walkway on the Royal Princess and Regal Princess, called the "SeaWalk," may be the ships' most unique feature. Walking across the glass floor and contemplating the amazing sea world beneath will undoubtedly be one of the best moments of your trip.
Disney Cruise Line
Needless to say, the Disney brand of cruises delivers one of the top experiences for children. Kid-friendly programming, exclusive excursions, and dynamic stage performances featuring their favorite Disney characters are among the fantastic features that Disney Cruise Line has to offer.
Celebrity Cruises
Easily among the best cruises in the world, the Celebrity line features four distinct ships: Eclipse, Equinox, Silhouette and Reflection. Art enthusiasts will appreciate the impressive collection exhibited on-board, with a combined value of $60 million dollars.
Breakaway Cruise Ship
Owned by Norwegian Cruise Line, Breakaway travels to some of the most exotic regions around the world, including Bermuda and the Caribbean. The eye-catching design on the ship's hull pays homage to some recognizable New York City icons such as the Statue of Liberty.
The top cruises in the world are the embodiment of grandeur and good taste. Clear a week or two on your calendar and book a hard-earned vacation on any one of these luxurious ocean liners.
Share this item with friends