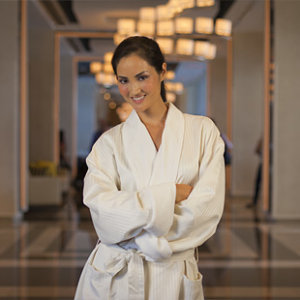 With so many spas offering similar experiences and services amongst competitors, the spa industry is becoming an increasingly competitive market. That is why it is crucial to get (and stay) ahead of the game, to offer top of the line perks, and to keep your customers coming back for more.
A pivotal practice in the spa and hospitality industry is to ensure that clients are comfortable, happy, and treated with ultimate respect. In order to do so, many spas opt for outstanding amenities. Are you considering offering excellent bathrobes at your spa, but you're stuck on figuring out which option is best? Boca Terry reveals the top, most affordable satin robes for your spa guests to enjoy:
The Satin Specialty
Satin and other silky fabrics have a long history of instilling a sense of royalty and pride for the wearer—this material has been regarded as a sign of money, virtue, or other good fortune. Historically, satin has been crafted from a number of materials. Whether from silk threads, polyester, or rayon, this fabric is known for it's soft, smooth feel and glossy exterior. It is no wonder that it has been associated with elegance and luxury time and time again.
Quality is Crucial
Before you invest in just any satin bathrobe for your guests, you will want to ensure that the quality meets your basic standards and requirements. How will you know that the quality meets your expectations? Choose a manufacturer that is as dedicated to the quality of their products as you are to the quality of your establishment. You'll also want to find a manufacturer that takes pride in what they do as a company—a brand that is obsessed with offering the best around.
When you find them, do not let them speak for themselves. Let their clients, ratings, popularity, and manufacturing process speak for their quality, as well. Boca Terry is the trusted wholesale bathrobe and bath towel supplier for world class luxury resorts, cruise lines, spas, medical facilities and promotional product companies from all four corners of the globe. Our clients, although from various industries, each with specific needs, come to us for creative consulting services and solutions that will improve their guest or customer experiences.
Manufacturing
Your bathrobe supplier needs to believe in your brand—and, whether they do will be evident through their manufacturing. The quality of the product a manufacturer provides relays how they feel about their customers, which is why we work hard to provide the best product possible. We care about our customers and our customers' customers! We want your guests to have the best experience possible when they invest their time and money into your establishment.
When it comes to manufacturing, Boca Terry has gotten the details down to a science—we take full ownership of the manufacturing and design of every wholesale bathrobe, towel, slipper, or other spa accessory that you receive from us.
Affordability
We want our customers to enjoy our products—everything from the materials we use to the value we offer. That is why affordability is always a factor when it comes to manufacturing our products. Because we cut out the middlemen, we are able to reduce manufacturing costs. This, in turn, results in lower costs for our customers, and, therefore, your customers. That means that you can't afford to not use Boca Terry in your spa!
Customization is Key
We know that you want to be set apart from the other names in the industry, and we completely support that! Because of this, customization is one of our most popular services. Stand out from the crowd by ordering custom-print bathrobes, or having a vibrant-colored logo or monogram embroidered onto your bathrobes! Your guests will be happy to see the customization, and it will enable your establishment to linger in their minds longer.
Boca Terry's Top Choices
Here are our top two choices when it comes to satin robes:
Pink Kimono Satin Robe– Crafted from 100% polyester, this incredibly lightweight, moisture-wicking robe is a beautiful option that many of your guests will enjoy. Do you offer a special couple's package? Be sure to offer them the option of the silky smooth, soft Pink Kimono Satin Robe!
Satin Stripe Bathrobe– Designed with comfort in mind, our satin stripe robe offers a balance of comfort and elegance while establishing a refined look. Its unique look is a modern depiction of the traditional smoking jacket worn in the 19th century that is still occasionally seen today.
Show your guests what they mean to you. Before and after their soothing massages and detoxifying mud baths, offer them the best satin robes to unwind in.
Boca Terry: Best Terry & Satin Robes
Now that you understand the importance of offering your spa clients top of the line amenities and wardrobe choices, you know what to do. If you have questions about wholesale pricing, or if you are ready to place an order for satin robes in bulk, contact the Boca Terry robe experts today!
Share this item with friends