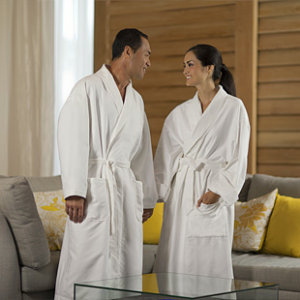 It's that time of year again: time to impress the guests at your ski resort! If you are a ski resort owner or manager, then follow our tips to improve your guests' stay, and maybe even boost your business this season:
Bathrobes
Whether warming up in their room after a ride down the mountain or heading out of the hot tub, robes are a must-have for every resort. Our plush robes are the perfect way to stay warm this season. Choose from several warm bathrobe options, including:
Hooded Bathrobe: this robe will not only keep guests warm, but it will help to dry their hair before they head out into the frigid temperatures.
Fleece Bathrobe: Crafted from 100% plush polyester, this option is bound to keep guests comfortably warm.
Microfiber Bathrobe: An elegant option, this warm, lined bathrobe comes in your choice of several color options to match your resort's theme!
Satin Stripe Bathrobe: A beautiful choice from our collection, this robe will keep the cold air out and the comfort in.
Towels
Much needed on a ski resort, towels are an essential. First of all, nothing beats a soft, fluffy towel after a shower, after a relaxing dip in the hot tub, or after a swim in the indoor pool. Each room will need an ample amount of towels — from the bathroom to the kitchen; towels are a high demand item on a ski resort because of the snow and ice.
On that note, towels also tend to play a less glamorous role on resorts. Melted snow equates to a lot of cold puddles everywhere. Don't be surprised if guests are lining the front door to their cabin or room with a few towels, to prevent their family and friends from tracking water throughout the rental.
Guests, we also suggest that you wipe off ski or snowboard boots and leave them on a towel to soak up the dampness after use.
Our affordable towels are luxury quality, making them absorbent, soft, and up for the job. Choose from our two collections:
Sunny Lane Collection: A classic option, these high quality terry cloth towels are a must-have in every resort.
Resort Collection: Beautifully textured, these towels will bring your resort to the next level of quality and elegance.
Slippers
Everyone knows that winter means cold toes! Help your guests avoid this discomfort by providing soft slippers in your resort rooms and cabins. They will appreciate the gesture, and you might just reap the benefits of that: positive reviews and returning visitors. We have several slipper options:
Open Toe: Excellent for soothing comfort, these feature an open toe area, allowing users to still warm their toes by the heat of the fire, without having to remove their slippers.
Open Toe Velcro: Great after wearing snug ski or snowboard boots all day, these slippers feature a Velcro closure for easy access and ultimate comfort. Never too tight or too loose, these slippers will ensure your guests are optimally relaxed.
Closed Toe: Perhaps the best option for a snowy ski resort, this will keep guests warm and cozy!
Spa Accessories
If you have a spa on your resort (which you definitely should — you will become unforgettable in the mind of guests), then you'll need to stock up on quality spa accessories. Guests want to do more than just ski or snowboard, and after a long day on the slopes, they might just want to relax! Here are some accessories to help them relax:
Waffle Blanket: offering multiple uses, this blanket can be utilized on your spa tables, or even in each room of the resort. It is soft and warm without being too heavy!
Spa Wrap: Great for use in a spa, or to help guests easily stay covered in your fitness center's locker room area, spa wraps are a favorite way to get ready for the day after a number of activities.
Spa Headband: If you offer facials, spa headbands are the best way to keep the hair out of your guests' faces.
Why Choose Boca Terry?
We know that you have a lot of options when it comes to the items we've listed. However, not all options are valuable and worth your time. Here are some reasons you should stick with Boca Terry:
Our luxury items are affordable — we always keep our customers in mind during the manufacturing process.
On that note, "luxury" is not just a word we toss around. Quality is a top priority for us.
Your guests will recognize the difference. No one wants to dry off with a paper-thin, flimsy, faded towel. They want to be embraced by a plush, soft towel that offers the same quality that you would like to be associated with!
We uniquely design and manufacture each of our products. In other words, they are not stock products offered by other suppliers.
Want to Better Your Resort with Boca Terry?
Now that you know one of the best ways to keep customers happy, it's time to do something about it! If you are interested in our stocking up on Boca Terry, review our products. Contact us with any questions, to learn more about pricing, or to order wholesale today!
Share this item with friends