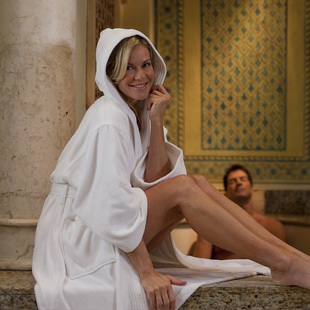 There are a million things you can give a woman for her birthday, and most of them are quite obvious. Perfume and jewelry are perhaps the most traditional ideas that come to mind. But one of the most precious gifts you can give a discerning lady is actually a beautiful bathrobe. Just ask any female, and she'll tend to agree.
The Message a Bathrobe Sends
Though few would turn their noses up at a beguiling scent or a gemstone ring, the message a bathrobe sends is far different and just as alluring. A bathrobe represents sensuality, comfort, ease, relaxation, and even protection.
The Gift that Shows a Caring Nature
When you give a woman a fine robe you are displaying a type of sensitivity that strikes exactly the right chord. No woman, whether she is your grandmother, your mom, your sister, your sister-in-law, your wife, or your girlfriend, can resist a gift that shows your sensitivity and caring nature.
Selecting Just the Right Present
The choice of a bathrobe means you have given thought to just the right present, rather than selecting the obvious. And when you have gone even further and sought out the premier line in the country for luxury and quality, she will fully understand just what a special soul you are.
Exquisite Items to be Cherished for Years
Boca Terry is known for having some of the most exquisitely styled robes, with attention to details that many competitors simply do not take into consideration. With an extreme conscientiousness towards all elements of craftsmanship and manufacture, we are as proud of our products as we want you to be, as we love making exquisite items that can be cherished for years.
Our Satin Bathrobes
One of our most popular lines for women, as you can imagine, are our Satin bathrobes. As one of the most sensual gifts you can give, their refined elegance spells femininity. Order our Pink Satin Kimono for the special woman in your life and you will be hard pressed to turn away all the hugs and kisses you will get when she opens the box.
The Kimono
In Japan and China, the kimono has a centuries old tradition of being one of the most subtly provocative, as well as utilitarian garments in a woman's wardrobe. Even today, it is worn to represent the ultimate in womanly grace, and our versions live up to this heritage.
The Pink Satin Kimono
At Boca Terry, we make most of our robes in one-size-fits-all, or they can be ordered in plus sizes for a more full-figured woman. The Pink Satin Kimono is of the palest hue, reminiscent of early cherry blossoms in the spring. Made of 100% polyester, it slips over the skin like a breath of soothing wind, and at 36" long and with a 17" sleeve, it covers the body like a breeze.
Satin Stripe Bathrobes
Our Satin Stripe bathrobes are extremely popular, also coming in kimono style, or with a shawl collar and ample pockets. This robe is extremely cozy, as it is made with an exceptionally high quality French terry knit lining. Created from 80% cotton and 20% polyester, this model envelops the body to absorb moisture while keeping one warm and toasty. Perfect for lounging around the house, the pool, the hot tub, or the spa, the Satin Stripe brings the bathrobe to another level of style.
The Fleece Bathrobe
There is nothing like a really plush bathrobe, especially if the woman in your life lives in a cold climate where feeling contained in a warm cloud can be the antidote to a chill. Take a look at Boca Terry's unique Fleece kimono or shawl collar style plush robes made of 100% polyester and you will get a good idea of how one could easily put this robe on and never want to take it off.
Our Waffle Style Robes
Our Waffle style robes are truly exceptional options, with their exceptional absorption that comes from each perfectly crafted waffle square. This is a robe that helps the skin retain oils or creams, which makes it a wonderful choice for after bathing or when at the spa.
The Kimono Waffle
The Kimono Waffle is created with large diamond shaped or seashell shaped designs. Made of either 100% cotton, or 67% cotton and 33% polyester, the robes can be ordered with optional colored piping.
The Knit Waffle
Our Knit Waffle is composed of 45% modal fibers, 45% cotton, and 10% polyester to provide the sensation that one is wearing a mere cloud. With perfectly detailed piping around the cuffs and front area, the shawl model features a rollup collar and cuffs and measures 52 " long. When ordered in kimono style, the length is a bit shorter at 48".
The Organic Lightweight Waffles
Our Organic Lightweight Waffles are specially created with 100 % certified organic cotton. With this all-natural fiber, the robe is ideal for anyone with allergies, or a big passion for maintaining a more holistic environment.
The Terrycloth Robe
Other gift selections include our Microterry and Microtec robes, as well as other exceptional designs that you can see in our online catalogue. Of course there is also the most traditional model, the Terrycloth robe. The difference between ours and our competition's is in the careful attention we give to advanced looping processes that allow our terry to not only absorb a grater percentage of moisture, but also to endure enough washings to outlast any other on the market. A good terrycloth robe is a staple in any woman's wardrobe, which means if you choose this model, you will never go wrong.
An Extra Special Touch
Not only can you buy the woman in your life a luxurious robe, you can also customize the robe with her monogram. Our custom embroidery options are available in a multitude of colors and fonts, which means you can design a monogram that suits her personality, adding an extra special touch that will instantly increase her appreciation for your thoughtful birthday gift.
Package it in a gift basket with a bottle of her favorite wine or champagne, chocolates or other preferred candies, and our supple slippers that will keep her feet warm and cozy for the ultimate in a thoughtful, just-for-her birthday present.
Contact Us
For more information on choosing the perfect bathrobe for the woman in your life, please contact us by filling out our online form or by calling 877.421.6001.
Share this item with friends