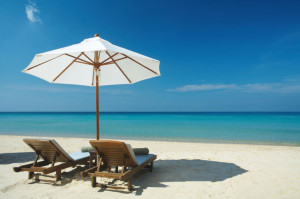 The life of a world traveler can be a difficult challenge. What with figuring out the combination of transportation, lodging, activities, and finances, planning a trip to any location can be a harrowing experience. There's a saying: "The best laid schemes of mice and men often go awry." It can often be the same on a trip that you think planned out to the minute; flights can be delayed, inclement weather can occur, and political situations can become unstable. With all these possible wrenches in the gears, you may wonder if traveling is even worth the trouble.
Free Your Mind
Luckily, the benefits of travel well outweigh the costs. Sometimes travel is relaxing, sometimes travel is educational, but it is always a beneficial experience, one in which you will gain much more than you spent. Travel can be particularly useful when you travel to new countries and spend time in different cultures; this will broaden your mind, focus your attention, and enhance your perspective on life.
With the current globalization, more of the world is open to the modern traveler than days of old. Tourism agencies, all in one packages, and discount airlines have made travel cheaper and more organized, opening a whole new range of travel possibilities to adventurous travelers. It's all a question of where you want to go and when.
Control What You Can Control
As previously mentioned, there are so many variables associated with travel that are impossible to predict. Therefore, it is pointless to stress and worry about those things that you cannot control. Instead, focus on the things you CAN control… such as packing the right apparel for your chosen destination.
Having the right things to wear can be the difference between a good vacation and a great one. Packing your down jacket for a trip to the Caribbean is a poor choice; likewise, bringing all your shorts to Iceland could prove a chilly mistake. Proper packing is one of the few logistical items in your control, and you should take full advantage of that opportunity.
The All-Around Item
With the escalating cost and hassle of carrying luggage, however, it makes sense to pack as lightly as possible, regardless of the destination. Packing articles that can serve multiple purposes is the smart move; why pack a whole tool kit when you can bring a Swiss army knife?
Indeed, the Swiss army knife of the wardrobe may be the bathrobe. You're probably saying to yourself "Bathrobe? Seriously? Isn't that a one and done article that you would only use once a day?" If you haven't explored the many options a bathrobe can provide, you haven't been creative enough with your clothing. Bathrobes can be used in a wide variety of situations, in many different types of weather. Wherever you are planning on going, a Boca Terry bathrobe should be one of the first articles you pack. Here's our list of some of the best locations to visit with your bathrobe.
•    The Caribbean
Let's start with the warm weather options. The beauty of the Caribbean beaches is matched only by the associated weather. A bathrobe is a perfect over garment for a day out on the beach; it can protect you from the sun and wind, yet is light enough to keep you cool and breezy. Wearing a bathrobe on the beach is both smart and fashionable.
•    Thailand
Southeast Asia tourism is steadily increasing in popularity, due to the relatively low costs of travel, as well as the burgeoning spa culture in cities such as Phuket. If having the pampered spa treatment is your idea of a good time, bringing along your bathrobe is a must. True, there may already be robes there, but it's a strong possibility they won't be the same high quality as your Boca Terry bathrobe, worn and fitted to your form.
•    The Mediterranean Coast
Similar to the beautiful shores of the Caribbean, the Mediterranean offers cooler temperatures and a more cultural experience. As the birthplace of modern civilization, anywhere from Greece to Italy to Southern France are ideal locations for a romantic getaway. On the off chance it gets chilly, your robe will be able to keep you nice and cozy.
•    Hawaii
A frequent getaway for those trying to escape the pressures of mainland USA, Hawaii is truly a tropical paradise. With beaches and mountain tops (don't worry, all the volcanoes are dormant), these islands feature all sorts of topography. A bathrobe can be used for relaxing on the beach, in your condo, or even as you go out around town… who says bathrobes aren't fashionable?
•    Scandanavia
Far from just a warm weather article, bathrobes come in handy when you visit the cold weather climates as well. Countries like Sweden and Norway offer breathtaking scenery, exciting winter activities, and a friendly, safe environment for your family. When it starts to get chilly, just bundle up in your bathrobe and enjoy a nice warm fire!
•    Alaskan Cruise
One of the greatest ways to see Alaska is from the deck of a ship. With winter weather and rocky terrain, the roads can be hard to navigate, but a cruise along the coastline can be just the way to experience this beautiful state! Wrap up in your bathrobe, sit on the deck, and watch the waves pass by.
•    Colorado Rockies
If you're a skiing fanatic, Colorado is one of the best locations in the world. On the edge of the Rocky Mountains, you will have your hands full with some of the best slopes to be tackled. What is cold winter weather without some warm hot chocolate by the fire after a long day outside? Jump in your hotel's hot tub before enjoying the fireplace… all in your warm Boca Terry bathrobe.
Boca Terry offers some of the finest quality bathrobes available on the market, in addition to other relaxation and spa products. With reasonable prices for the quality of our robes, you will never regret bringing your Boca Terry robe on your next vacation. Log on to www.bocaterry.com and order your next robe today!
Share this item with friends