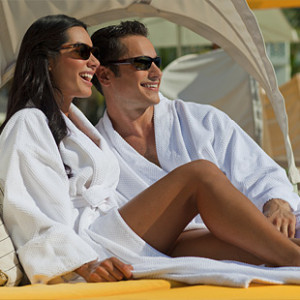 As everyone in the hospitality business knows by now, a good dressing gown has always been the emblem of luxury. From royalty to movie stars, wrapping a sumptuous and beautifully cut robe around one's body can be a sign of relaxed elegance that all of us aspire to.
The Choice for Top Tier Establishments
Our Boca Terry dressing gowns have long been the choice for top-tier establishments such as hotels, bed & breakfasts, spas, resorts, and casinos. Now, hospitals have become aware of how essential it is to offer patients dressing gowns that make them feel pampered, which also helps them to feel better. The Ultimate in Comfort Hand selected fabrics of the finest quality, impeccable attention to cutting and sewing, and seams created to last, are all part of what makes our dressing gowns so desirable. Because we train each and every craftsperson who works with us, we know that every single one of our products is not only made to last, but also to provide the wearer with the ultimate in comfort.
What Makes a Luxury Item
Covering clients from all over the world, our distribution centers in Miami, Los Angeles, and Hong Kong allow for easy delivery everywhere. The 50 years of combined experience we have in textiles and manufacture have made us experts in determining what makes a luxury item. State-of-the-art sewing, looping, and weaving techniques along with attention to growing protocols that include the selection of seeds, soil, and nutrients, as well as an eye towards excellent design are key.
A Variety of Styles
With quality control and customer service at the forefront, Boca Terry offers a variety of styles for both men and women. An overall list of the dressing gowns you will find on our website includes the following:
• The basic kimono
• The checkered bathrobe
• The classic shawl collar bathrobe
• The fleece kimono bathrobe
• The hooded bathrobe
• The kimono waffles
• The knit waffle bathrobe
• The micro chamois bathrobe
• The microfiber bathrobe
• The microtec bathrobe
• The microterry bathrobe
• The mini stripe
• The pink kimono satin
• The satin stripe
• The shawl waffles
•The velour stripe
• The organic basic kimono
• The organic classic shawl collar
• The organic lightweight waffles
Sensitivity to Your Guests' Needs
No matter what type of establishment you are, you will want to have several types of robes that fit various occasions, or at the least, the seasons. A light robe for warm weather and a cozier one for cold is what can make the difference when it comes to showing your guests that you are sensitive to their needs.
The Shawl Collar Terry
One of our most popular styles is the shawl collar terrycloth bathrobe, which borrows from the glamour of the 1940's yet is as contemporary as it gets. Imagine a lush roll up collar and sleeves that keep the neck and wrists covered and warm, respectively. Wrapping around the body in such a way that the silhouette remains sleek and svelte, this style is the epitome of what we look for in loungewear. With deep pockets that invite the hands to sink inside and double belting that allows for perfect waist height adjustment, this robe is classically lounge-worthy and fitting to anyone, regardless of body type.
The Satin Stripe
Then there is the Satin Stripe. Boasting either a shawl collar or the liner elegance of the Kimono style, this luxury robe is made with exceptional French terry knit that creates a sumptuous inner lining. The exterior is made of a combination of cotton and polyester, which creates a glorious patina that adds to the allure of this unisex dressing gown.
The Pink Kimono
Our Boca Terry Pink Kimono is as alluring as can be in 100% polyester that caresses the skin like a whisper. Coming in pale pink, when draped around the body, any woman will feel feminine, gorgeous, and absolutely ready for her close up. Draping softly over the body, the T-shaped design compliments every possible size and shape, and is a perfect short dressing gown for any romantic setting.
The Waffle Weave
The Waffle Weave design is another exceptional choice as it keeps you nice and toasty without being bulky. Perfect for a Jacuzzi setting or after a dip in the pool, this dressing gown is made of small sections of material that wick away moisture like washcloths. Keeping the body dry, they also add great panache the silhouette, which is what a good luxury dressing gown is all about. Waffle Weave bathrobes are often the number one choice for our top spa clients. With the diamond or seashell patchwork keeping emollients in so that the skin remains soft, this model is ideal for wearing in between treatments.
The Organic Lightweight Waffle
Order our Boca Terry Organic Lightweight Waffle robe to experience 100% certified organic cotton's natural fibers. Eco-friendly and completely hypoallergenic, this model supports those of you who are choosing to go Green.
Toxin Free
Speaking of eco-friendly practices, our organically grown robes are completely toxin-free, which is ideal for anyone with allergies or skin problems. From seed to final product, we supervise every aspect of our organic line, making sure that codes are followed in order to guarantee you a perfectly pristine product.
Customizing Your Dressing Gown
Customizing your dressing gown with a logo creates an added luxury as the garment takes on a unique message that speaks of your establishment. When a guest drapes a robe around his or her shoulders that has your unique logo or monogram, there is a special feeling of being a part of an exclusive club. Add colored piping, and you have an even more exceptional garment that can help to advance your brand.
Contact Us
For more information on the best luxury dressing gowns for men and women please contact us today.
Share this item with friends