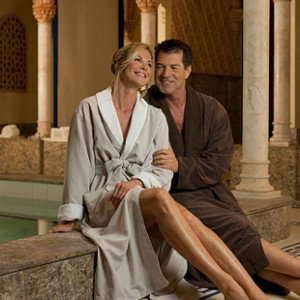 Now that fall has officially fallen upon us, and the chillier weather is emerging, robe enthusiasts are on the lookout for the best places and opportunities to use their favorite wardrobe piece — a plush, warm, fall time bathrobe. If you are still trying to determine a few of the best places to wear your Boca Terry robe, then you've come to the right place. Here are some of our favorites:
1. Beside the Fire Pit
One of America's favorite past times during fall is to gather around the campfire. Invite over a few friends, turn on a little bit of music, and enjoy one another's company. Don't forget to stay warm! With apple cider and toasted marshmallows in hand, the backyard fire pit is one of our favorite places to rock our robes. Stay extra warm with our Fleece Kimono Bathrobe!
2. During A Warm Weather Cruise
If you are ready to escape the cold, we don't blame you! As exciting as fall is, combating the cold weather can be tiring and frustrating. While our plush robes do a great job of helping wearers fight the frigid air all season, sometimes a tropical getaway is the best way to warm up. Pack everything up for a fun cruise (or even book a stay at a tropical resort).
When you decide to embark on a wonderfully warm tropical cruise, do not forget to pack your favorite Boca Terry robe! While the weather might not be as intimidating in the tropics, there is nothing more comfortable than sporting a beautiful, soft robe on your personal balcony, as the warm air blows past and the Atlantic Ocean rolls beneath the ship.
3. During a Movie Night In
Everyone craves a night in every once in a while; even the most energetic individuals love to recharge with a big bowl of popcorn, the newest DVD release, and that special someone. Make date night even more comfortable with a matching pair of Microfiber Bathrobes! These robes are elegant, classy, and most importantly, relaxing. Choose a pair to elevate and accentuate your movie date night in! Whether you are in for a comedy or a chick flick, these robes are the best accessories for your evening.
4. Near the Toasty Fireplace
When the weather outside is frightful — well, you know what to do! Snuggle up with the family for a night by the fire! That is why the good old fire pit is the best place to don your best Boca Terry robe!
5. As Part of Family Game Night
Gather up the family and get ready for a fun night! Nothing says fun like a comfortable night in with your loved ones. Enjoy a home cooked meal, set up some snacks, and slip a plush robe over your pajamas. If your home gets a little chilly during fall and winter, this is a great way to keep warm!
This is a great way to unwind from a long week, while also bonding with the family! Invite over your cousins, aunts, uncles, and grandparents, too! The more the merrier during your cozy family night.
6. After a Dip in the Hot Tub
There really is no substitute for the relaxation experienced in an outdoor hot tub during fall and winter. It is the perfect complimentary amenity to a cold night. Sit under the stars as the cool breeze knocks colored leaves from the trees around you. But, when you step out of the Jacuzzi, that cold air is a doozy! Our Hooded Bathrobe is a great choice for this occasion. Made from absorbent terrycloth, this option will keep you dry and warm after a dip in the hot tub!
7. Star Gazing
As the earth shifts and winter moves in, the skies begin to change. See if you can spot Orion as you lay out with the kids, bundled up in your warm and cozy robes! Better yet, don't just star gaze on a normal night. Grab the kids, a few robes, and fill the tank up. Take a trip out to a peacefully excluded area and enjoy the Leonids Meter Shower this November 16th! The memories made here will last a lifetime.
Get Ready for Fall Fun with Boca Terry
Whether you want to order a robe to enjoy for personal use, or you would like to suit up the guests at your establishment, a fluffy fall robe is the right way to go. If you have any questions, if you would like to know more about our prices, or to place a wholesale order, contact us today!
Share this item with friends