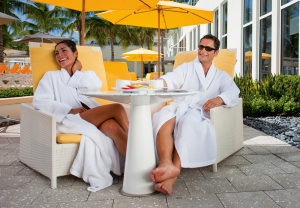 It's that time of year again. Bring out the ice cream and bathing suits! With summer arriving at full force, it's time to start considering the best bathrobes to help you make it through the season.
You're going to want something that's the perfect blend of breathable and beautiful. With Boca Terry, that's not out of reach at all!
What to Look For
What do you need to look for when choosing the right summer bathrobe? Well, keep in mind that, in most places, summer is hot. That means any materials that are lightweight or cooling take precedence over others.
You'll also want to make sure that your bathrobe is made from the right materials. For example, cotton is recognized for its high level of absorbency, making it great for summer. Whether you're hanging out by the pool or leaving the gym, absorbency is key to comfort. Polyester, on the other hand, it lightweight, breathable, and holds moisture-wicking properties. That means that you'll feel dry in no time! Stick with these types of materials for a comfortable summertime experience.
Want to know with robes are the right choice for your guests, according to these standards? Here are some of our favorite bathrobes to wear during the dog days of summer:
Satin Stripe Bathrobe
Satin is known for being silky smooth, light, and airy. The Satin Stripe bathrobe made by Boca Terry is no different! Lined with French terry knit for luxurious comfort, this bathrobe has proven to be light, yet absorbent.
Available in two irresistible colors—crisp white and warm ecru—this bathrobe is just the right choice to get your summer visitors comfortable. Best of all, this bathrobe comes available in two styles. Choose from the classic kimono style, or the longer shawl bathrobe that features a luxuriously cozy collar.
Kimono Waffle Bathrobe
The Kimono Waffle is our rendition of the traditional kimono style robes that have been popularized by western culture. This design is exceptional, as it is light and comfortable, making it perfect for your summer days.
This product is available in extended sizes and in multiple styles with a selection of patterns. The following are the style choices for this robe:
Short Basic Waffle (67% Cotton 33% Poly)
Large Diamond Kimono
Multi Waffle Kimono
Basic Waffle (67% Cotton 33% Poly) Kimono
Basic Kimono Waffle with Piping (67% Cotton 33% Poly) Kimono — Piping available in black, navy, or royal blue
Seashell Waffle Kimono
The Short Basic Waffle is Boca Terry's newest design, rolled out just in time to make your summer more enjoyable! Made from absorbent cotton and moisture-wicking polyester, these bathrobe options are excellent for any summertime activities.
Shawl Waffle Bathrobe
Available in extended sizes, the Shawl Waffle is a beautiful choice for all of your summertime fun. It comes in the following options:
Large Diamond Shawl Collar
Large Diamond Shawl Collar with Lining
Basic Waffle Shawl Collar
Basic Waffle Shawl Collar (lined)
Available either lined or unlined, this lightweight option is cozy and comfortable, making your guests feel right at home. The color piping is available in black, navy, and royal blue. With so many great options, it might seem difficult to narrow down which to choose!
Pink Kimono Satin Robe
Summer is the season of bright colors—and it's the perfect time of the year to be pretty in pink! Our signature Pink Kimono Satin Robe is a great choice for your guests to toss on during the hot summer months.
Our lightest bathrobe, this lightweight garment is airy, breathable, and extremely soft. At 36" in length, it is short and sassy, yet always classy. Made from 100% polyester, this moisture-wicking bathrobe is a great choice to bring your resort from drab to fab.
Bet on the Best This Summer
Whether you're looking for a robe to combat the weather or you are in need of a cool-looking bathrobe that's in style this year, Boca Terry has all the right choices for you. You can rest assured that the quality of our bathrobes is never sacrificed. We have a unique and monitored manufacturing process that ensures each item we craft is made with care.
f you have any questions, need a quote, or wish to place a wholesale order contact us today!
Share this item with friends