v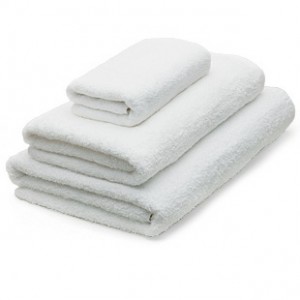 One difference between bath towels that can be quickly discerned is their quality. There are quality, thick, luxurious bath towels that are absorbent and last a long time and then there are the cheaper offerings. These are thin, develop bald spots and basically fall to pieces after only a few times in a washing machine. They absorb poorly and if they are colored, they bleed. They are good to buy for guests that the homeowner does not particularly want.
Unlike bed sheets, towels generally don't come with a thread count, so the buyer will need to actually feel the towel to know if it's both luxurious and sturdy. Generally, the heavier the towel is, the better it feels. The buyer might also want to know the towel's pile height, which gives it that great feel. Furthermore, they may want to know what fiber it's made out of and its loop density as well as the measure of its absorbency.
The most popular types of bath towels are made out of cotton, of which there are several types. Cotton has the benefit of growing stronger when wet. Cottons with a long staple tend to be softer than short staple cottons. The staple is the length of each cotton fiber. American upland cotton are terry cloth towels and fairly popular despite having a short staple. Egyptian cotton has the longest staple and as a result the towels are sumptuous. Egyptian cotton towels are very absorbent but durable and they don't give off as much lint as other cotton towels.
Bath towels can also be made out of linen and though they are also stronger when wet they don't have the luxurious feel of cotton and are not quite as absorbent. They're often used as guest bath towels.
Towels also come in several types of weaves:
– Jacquard
weave towels have patterns that are woven into the towel. They can give the towel a rather opulent look.
– Velour
is a velvety weave that, while esthetically pleasing, isn't as absorbent. This is because the weave is made by sheering the loops after the fabric is woven.
– Waffle
weave bath towels do look like they've been taken out of a waffle iron. Their advantage is that they dry quickly and have a somewhat rough texture that's good for part of an invigorating massage.
– Terry
cloth is the weave that most people are familiar with in bath towels, with raised loops that give the towel superb absorption and at the same time make it warm, soft and inviting.
Luxury bath towels are something to make each and every bathroom special. Step out of the shower and wrap yourself in the highest quality materials. Trust in Boca Terry's expert staff and unparalleled selection at http://50.97.39.122/~bocaterry. Whether you're buying bath towels for your home, as a gift or wholesale, their quality and excellence are evidenced in each and every product on the site. Browse their online catalogue and find the luxury bath towels you've been searching for at the best price.
For any further information, please do not hesitate to contact us.
Share this item with friends