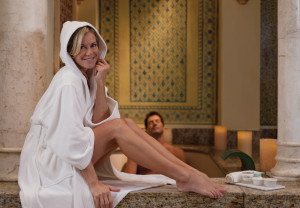 Nothing feels better than throwing on a soft cotton bathrobe to kick back and relax after a long day of hard work. Bathrobes are the perfect way to end a busy day.
When it comes to bathrobes, there are a lot of options on the market. Between a variety of sizes, colors, and designs, it can be hard to narrow down your favorite choice.
Not to mention, your bathrobe can be made of organic cotton or regular cotton¾both of which make for a considerably comfortable towel-like garment. The differences between the two fabrics stem from the properties tied to cotton's growth method. So, which is the right option for you and your guests? Learn more now!
Before the Bathrobe: All About Cotton 
Before going over the differences between the two mentioned types of cotton, it's important to know what exactly cotton is. When thinking about the things we use daily that are made of cotton, the first thing that comes to mind is an uber-smooth white fabric¾yet there's more to this staple's nature than that alone. Its cultivation plays a large role in its identity and usage.
Cotton's utilization dates way back to 5000 BC. It is a fuzzy white fiber that grows in a protective case (called a "boll") surrounding plants grown in both tropical and subtropical countries around the world; the largest diversity of cotton is found in Mexico.
Once the fiber is grown, it's spun into thread to make for a more breathable cloth.  This prehistoric material grew into being widely used in every region worldwide, and eventually, the cotton gin was created to make its production process more cost-effective. Its use continuously progressed in the clothing industry¾and of course, in bathrobes!
Cotton must be grown during long periods of abundant sunshine and moderate rainfall; irrigation can make up for the absence of the necessary amount of rainfall. Heavy soil is also a requirement for growing cotton, but it doesn't have to contain many nutrients. Here are the chief areas in which the production of organic and regular cotton diverge:
Growth Methods. Organic cotton is characterized by the fact that it's completely grown from non-genetically modified plants. The removal of chemicals in the growth of organic cotton promotes biodiversity. It's cultivated in subtropical countries (including the United States) without the use of fertilizers and pesticides. Contrarily, regular cotton is grown with the use of agricultural chemicals.
Soil Makeup. A systematic approach known as "crop rotation" exists for large-scale organic farmers to decide where and which crop they'd like to grow in their fields. When it comes to cotton fields, this approach is crucial in organic farming, since it controls the pests and diseases that can appear in the soil, too, by changing the crops' sequence. This change ultimately decreases the number of pests.
In farming organic cotton, farmers also use the method of cover cropping, which involves planting a crop to manage ecological systems by controlling properties like soil erosion, water, and more. The soil in which organic cotton grows has a higher concentration of organic matter, as well.
On the other hand, conventionally grown cotton is brought up in soil with synthetic fertilizers. Sometimes a loss of soil results due to cultivating a monocrop culture. In addition, rigorous irrigation is a must for regular cotton farming.
Controlling Weeds and Pests During Farming. The conventional method of cotton farming inhabits the use of aerial spray for pesticides and insecticides. In contrast, beneficial insects and crops used to trap harmful insects are utilized to control insects and weeds in organic cotton farming.
Organic farming is a little more intensive and necessitates the use of bio pesticides like bacteria and fungal pathogens. This form of agriculture focuses on maintaining the amount of beneficial natives.
Harvesting and Whitening Processes. Organic cotton is harvested from the processes of water management or the natural defrosting from cold temperatures. With regular cotton, defoliation is induced with chemicals. When it finally comes to the whitening process, organic cotton is usually whitened using safe peroxide. When it comes to the regular means of whitening cotton, chlorine leaching is used.
Boca Terry Bathrobes: The Choice is Yours
With all that said, it can be hard to narrow down which bathrobe choice is right for you. For example, conventional cotton is often more cost effective than organic cotton. On the other hand, organic cotton is a greener choice for your guests.
Your choice of conventional or organic cotton bathrobes will depend on your establishment's beliefs and practices. The good news is that Boca Terry keeps both on hand to meet your needs!
Here are some of our favorites from both categories:
Checkered Bathrobe: Featuring a checkered shawl collar, this bathrobe is fully made of high-quality combed cotton. You can store your cellphone in one of its generous pockets.
Hooded Bathrobe: Available in terry and velour fabrics, this stylish bathrobe boasts multi-needle stitching along the front as well as along the cuffs and pockets for a sleek finish.
Organic Basic Kimono: Organic cotton never looked so good! This cotton velour or terry robe is 100% certified organic cotton and it flaunts a hanger loop for easy storage. or
Organic Lightweight Waffle Bathrobe: The chic waffle texture on this breezy bathrobe offers an extra smooth fit and look. Flexibility and comfort are written all over this luxe organic cotton robe.
Better yet, Boca Terry prides ourselves in providing affordable luxury bathrobes. That means that you can always trust our quality—and our prices!
If you're interested in purchasing organic or conventional cotton bathrobes, contact us today! We can provide a quote or help you place your order; we'd love to hear from you soon!
Share this item with friends