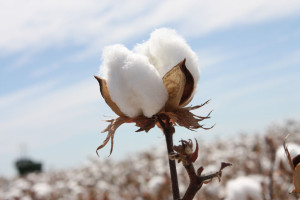 Going back to a time where apparel and textile companies were pulling their hair out over increased costs, particularly during 2010 and 2011, we are now experiencing the decline of cotton as America's favorite fabric. Despite lower prices, this natural fiber is failing to revive consumer demand, allowing man-made fibers to take permanent reign.
According to a recent article in Reuters, "Why cotton is no longer king of US apparel industry," 2014 trends are signifying that U.S. imports of synthetic clothing are overpowering the existence of cotton garments for the first time in 20 years. Moreover, U.S. mills are responding to this shift by increasing the production of artificial blends of fabric as an unexpected recovery of the domestic textile industry takes place.
Aside from the appeal of lower-priced synthetics for designers, American consumers are beginning to shy away from their love of natural fiber. Along with the exorbitant rise in price three years ago, the decrease in demand is also attributed to changes in technology and marketing. More specifically, designers are finding that consumers are cultivating a preference for polyester yarn as a replacement for cotton.
From a supply chain standpoint, cotton is losing its competitive edge. To exemplify the shift from a textile supply perspective, Parkdale Inc., the number one US miller, announced in October 2013 that it would spend $85 million to convert a 100% cotton plant to blend synthetic fiber. Even though cotton prices have decreased from their all time high since the U.S. Civil War, where prices spiked to more than $2 per pound in 2011, mills see no reason to return to their old ways.
Discovering that buyers do not have a preference for a lot of clothing that is made out of cotton, mills reacted by addressing this lack of preference. It also doesn't hurt that synthetics from China are still cheaper than cotton. Even the way man-made fibers are currently produced rivals the characteristics of cotton: breathable, stretchable and enjoyable to wear.
To understand the impact of this shift, consider the following statistics:
According to the National Cotton Council of America, China traded polyester at about 68 cents a pound during the week ending March 6, which is less than half the price of cotton.
According to data from the U.S. International Trade Administration, synthetic imports such as polyester and viscose have risen by more than 20 percent over the past three years, while cotton imports have fallen by 14 percent.
Despite growing evidence that things may never be the same for the cotton industry, some companies are still holding onto the reasons why we loved cotton in the first place. For instance, sports clothing company Under Armour Inc., has developed a cotton line to commemorate cotton's influence, while marketing group Cotton Inc., works to promote cotton over synthetic fibers by targeting younger buyers.
Due to the cotton industry's decrease in prices, reliable use of energy and shifting trade flows, this has actually sparked a wave of investment by a variety of foreign and domestic firms throughout states like Virginia and Tennessee. Nonetheless, there are still naysayers concluding that cotton's loss of market share could prove to be worrisome for investors further down the line. In sum, synthetics are more practical fibers because they are resistant to the fluctuations of weather and disease, consistent in terms of quality and supplies, offer price stability, and use technology to cut costs and increase efficiency.
Share this item with friends