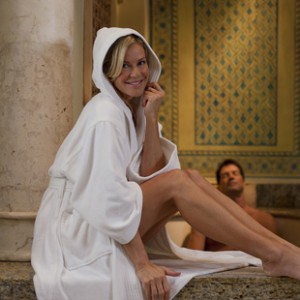 Both fashionable and beautiful bathrobes can be found for sale at luxury retailers worldwide. These are the establishments that are trusted by resorts, spas, hotels and many private individuals. Lovely products are great, but most people actually choose a bathrobe for comfort.
Hotels and spas understand the need for complete relaxation. This is the reason the most luxurious of them provide bathrobes for their clients. It not only gives them comfort during their stay, but it helps create memories of special touches when they are seeking a place to stay or rejuvenate in the future.
A much-loved bathrobe is used for warmth when one jumps out of the shower, relaxes around the house or hotel room, or even as a comfortable outfit while enjoying a picnic on the patio. Some people even enjoy sleeping in their bathrobes.
Quality materials that cater to every comfort need are essential for bathrobes. No matter what an individual's preference is, a variety of materials exist to make sure each person believes his is the most comfortable bathrobe. Here are some fabrics to consider when choosing a favorite:
Cold Weather
•  Fleece
This is a traditional winter fabric, making it perfect for cold weather climates and the winter season. For those that find comfort in extra warm clothing, this is a great choice. Putting on one of these bathrobes feels much like curling up in a blanket.
•  Velour
This material is great for cold weather because of its velvety feel. It suggests a luxury for the winter months that satin lends to the summer time. Adjustable collar, belt loops and cuffs make this a great choice for those who want a custom feel for their bathrobes. This is a great holiday fabric.
Warm Weather
•  Micro Chamois
This is actually a fleece fabric, but it is much more light weight. It has a soft and silky feel as well as anti-static features. It provides the insulation of fleece without the classic bulk.
•  Microfiber
Popular among cleaning cloths, this is not the first fabric many would think of when searching for comfort. However, individuals can enjoy the great benefits of the moisture-repellent material and luxurious comfort with the addition of a French terry knit lining.
•  Microterry
One characteristic of terry knit is a looped texture that may feel rough to some people. The microterry has a smooth surface on the side next to the skin, so the comfort is maintained along with the stretching ability of traditional terry.
•  Satin
Satin has long been the trademark fabric of luxury. Its smooth, silky feel is enjoyed by many people. This material is better for warmer climates and seasons because of its light weight. A shorter length style also contributes to a higher comfort level during warmer weather.
You can learn more about choosing your own custom-made comfort by calling Boca Terry at 954.312.4410 or toll free at 877.421.6001, extension 210. You can also get more information on this quality company through toll free fax at 866.530.9743 or online at http://50.97.39.122/~bocaterry/.
Share this item with friends