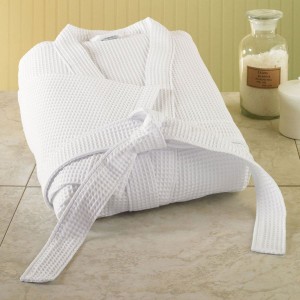 Bathrobes are one of the most important indicators of how you treat your guests. As makers of robes, towels, and spa accessories since 1996, we can tell you that a high quality bathrobe goes a long way when it comes to showing your clients that they are worth the best.
Maintaining Classic Appeal
When thinking about which robes to choose for your establishment, it is wise to remember that there are certain styles that remain iconic throughout time. These are the robes that maintain a classic appeal while doing justice to their purpose, which is to keep you dry and comforted no matter what the situation or the temperature.
The Terry Cloth Robe
One of the most iconic of all models is the terry cloth robe. Luxurious and stylish, it has been around since the late 19th century when Samuel Holt designed it in 1848. It then went into full production in 1864 in his factory in New Jersey. Men and women alike became instant fans, instantly appreciating the value of the fabric that could wick away moisture in the blink of an eye.
Standing the Test of Time
The terry cloth robe can come in all sorts of colors, but to us, the most iconic is when it stays a simple white. Adorned with a beautifully styled monogram or logo, it stands the test of time as a glorious tribute to elegance and élan.
That Movie Star Look
When you think of a terry robe, you can imagine a sexy, glamorous Hollywood image brought forth by move stars such as Lana Turner in "The Postman Always Rings Twice" or Katherine Hepburn in "The Philadelphia Story." You can also think of the glorious swimmer, Esther Williams, and her poolside glamour in films of the 1940's. And then there's Marilyn in that famous Life Magazine spread, wearing an oversize terry that did more for sexuality than any nude photo ever could. The Terry MystiqueTerry cloth robes were always an emblem of café society, with F. Scott Fitzgerald and his wife Zelda sporting them on the Riviera and elsewhere. Today's movie and sports stars still uphold the terry mystique. One only has to think of Bruce Willis wearing a classic terry as if it was a tux in some recent interviews.
How Its Made
Terry is created by using a special looping technique that twists the uncut strands for the ultimate in absorbency. The cloth is woven or knitted and made in two layers, one on a loom to function as the base and the other a raised warp or pile that is what gives terry its full appeal.
Defining Elegance and Grace
Boca Terry terry cloth robes are famous for their soft nap along with designs that make everyone look good, no matter the body type. In a one-size-fits-all for men and women, as well as in plus sizes, our designs create a perfectly elegant drape that defines the word grace.
Our Styles
Order your iconic terry robe with a voluptuous hood or a shawl collar with roll up sleeves, and deep pockets for safely holding miscellaneous item. You can also choose the Asian influenced Kimono that includes, as with the others, double belting for adjusting weight height and a loop on inside of back collar for easy hanging. With impeccable stitching, our robes are made to last, even with all of the countless launderings that they must endure.
For the Green Sensibility
Our 100% organic cotton terry robe is fast becoming our most popular as our customers gain a greater Green sensibility. Made with non-GMO grown seeds and strict attention to industry regulations including no pesticides, resins, bleach, or other toxins, this model is ideal for establishments committed to reducing their carbon footprint.
A Best Seller
Because the terry cloth robe never goes out of style, it is one of our best sellers, ordered by leading hotels, spas, resorts, casinos, hospitals, promotional companies, as well as our retail clients. Buyers know that a good terry robe is ideal for any climate, and that at Boca Terry they will not have to spend a fortune to help their guests look like a million dollars.
The Waffle Weave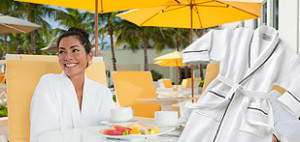 Waffle weave bathrobes are another classic style. Warm enough to keep you toasty in cold weather and cool enough to keep you comfortable when its warm, they are made with numerous small panels that not only absorb moisture, but also hold in emollients. Boca Terry Waffle Weave robes are made of very high quality fibers sewn together with impeccable stitching. Unisex and one-size-fits-all, our inimitable styling is with an eye to provide elegance to every body type.
The Ideal Robe
Never bulky, waffle weaves are perfect for keeping the skin soft, making them ideal for in between treatments at spas. Customize them with your brand logo, and you will be creating an iconic look for your establishment that will help set you apart from the competition.
The Satin Stripe
Boca Terry's Satin Stripe robes are the ultimate in elegance, helping your guests look and feel wonderful whether they are indoors or out. Many hospitals are currently ordering this style from us as they appreciate the luxurious feeling that helps uplift their patients.
A Standout in Any Situation
Here too you can order the Kimono style or the luscious shawl collar with roll up cuffs. Made of French terry knit lining and an outer shell of 80% cotton and 20% polyester, the Satin Stripe is a standout in any situation.
Our Factories
Boca Terry factories function at a very high level, with every employee trained to observe the details that help to make our merchandise so perfectly crafted. With locations in China, Columbia, India, Pakistan, and Turkey, every item we produce is inspected thoroughly for perfection before we send it out to you.
Contact Us Today
For more information on our iconic bathrobes, as well as how to customize your order, feel free to contact us today!
Share this item with friends