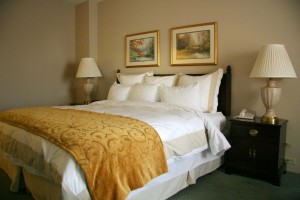 Because guests no longer want to stay in a boring, white-walled, dust-bunny ridden room, hotels are improving their amenities. By offering special amenities, hotels can catch the interest of travelers and are more likely to book returning visitors. Here are some of the most innovative amenities hotels are offering that you don't want to miss out on!
Full Sized Kitchens
Gone are the days of the microwave hotel horror. More hotels are foregoing small, leaky mini-fridges (equipped with a wonderful 3 inch freezer flap) and are offering guests large refrigerators, full size ranges, cookware, dishes, and dishwashers.
All Inclusive Hotels
Popular hotels, such as Marriott and Hilton, are introducing all-inclusive hotel vacations. No more fretting about food, dining sans drinks, and saving by declining snacks. For one flat rate, all food, adult beverages, and other drinks are included along with a nice room, fun, and sun! These hotels are making it easier to ensure you don't spend your precious vacation time concerned about what you are really spending.
Celebrity Chef Restaurants
Growing in popularity are celebrity chef restaurants featured at great hotels. Some opt to feature a celebrity chef gourmet restaurant, while others offer room service dishes crafted by some of the biggest names in the industry. Visitors can have an unforgettable meal without leaving the comfort of their hotel! Yes, we are serious: Gordon Ramsay's culinary creations are available at the London West Hollywood in California. You can thank us later for that golden piece of information.
How-To Classes
Did you ever want to take a quick Mixology class so you can learn how to whip up a special cocktail? Today, many hotels have made this a feasible dream! Mix up a mimosa and stir up some sangria during your travels. Not a fan? Opt for a Jamaican cooking class and a wood carving class, while you are at it! Hotels offering this amenity make guests' stays more enjoyable and memorable! Who needs souvenirs when you have a new, useful skill?
Pet Perks
An abundance of hotels have noted the need for pet-friendly rooms and services. Rather than leaving your furry family members at an overpriced overnight pet facility, bring them along on your next vacation! These pet friendly hotels provide food, water bowls, and more! Head over to the Loews Hotel for a doggie spa day, or visit Kimpton Hotels to catch up on your "doga"—dog yoga!
We know that traveling is more fun with great amenities. Be sure to know your options before booking your next trip!
Share this item with friends