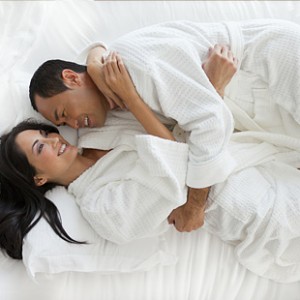 So, you chose your robes on basis of quality, design, style, and price. Boca Terry fulfilled all the requirements, and you've even done several reorders with us on new items that correspond to your needs. Change of season required our Kimono Waffles for spring lounging, our Microtec for greater absorbency in the spa, the Hooded Terry for those colder evenings, and the Satin Stripe for the wedding party that booked lodgings so far in advance and asked for the specially ordered embroidered design.
You followed your intuition and ordered an extra quantity of Velour Stripe bathrobes, knowing there would be a need. You made a substantial claim to our large towels, so ideal for your pool area, and stocked up on extra hand towels for your holiday bookings.
Because you know that success is always in the details, you made smart decisions, choosing luxury at every turn, knowing how your guests revel in feeling like royalty. Leaving the quotidian world far behind to stay at your hotel, inn, resort, spa, or bed and breakfast, your guests have inspired you to create an oasis in which to let their hair down, to feel at home, contained, entertained, and thoroughly relaxed.
Making Memories
Most people are not able to enjoy a repeat performance in a hotel as often as they would like. Time and money constrain, and so the days spent enjoying your amenities will exist as potent memories in the future as they recall the romance of the weekend, the pure indulgence of cocktails overlooking the sea, dining by candlelight, cozy nights curled up by a fireplace, sensuous massages, and your impeccable service.
A Reminder of the Comforts You Offer
Often guests need only a simple reminder of the comforts and delights found in your establishment. Could this be why so many of them call back after only a few days of returning to reality to ask how and where to get your bathrobes?
Luxury Bathrobes: Emblematic of a Perfect Stay
Why is it that the bathrobe is so emblematic of a perfect stay? When you finally shed your clothes, you are symbolically leaving your old self behind. Putting on a luxury bathrobe is the first gesture towards release. When a soft, sensual robe enfolds you, you give in to its caress, and it changes you.
Being Transported to Another World
At Boca Terry, we have spent years researching the best possible fabrics and methods of creating robes that give people the sense of being transported to another world. Our materials come from exceptionally high quality sources and are made with an attention to the finest detail. We spare nothing to create exquisitely crafted pieces for women and men, and make sure that no part of our design is compromised through the many washings and dryings it must undergo.
Enticing Your Guests Back, Year After Year
With an eye to such perfection, it is no wonder that guests who have sampled our robes in hotels and resorts around the world clamor to have one of their own. And though we are exceptionally proud that our products are in such demand, we also hand the medal over to you, the buyer, for it is your good taste and wise purchase that will consistently entice these guests back to you, year after year.
The Meaning of Good Hospitality
Good hospitality starts with knowing what your guests want before they do. When you anticipate their wishes, your customer service rating goes up a thousand fold. At Boca Terry, we have created a complete inventory of bathrobes that fulfill every need, whether for seasonal use, for spa treatments, for beauty and sensuality, for comfort and warmth, for elegant functionality, or something that is unique to your establishment. Here are some examples of the types of perfectly created robes that you can choose from:
•    The basic kimono
•    The organic basic kimono
•    The pink kimono satin
•    The kimono waffles
•    The fleece kimono bathrobe
•    The checkered bathrobe
•    The classic shawl collar bathrobe
•    The shawl waffles
•    The knit waffle bathrobe
•    The hooded bathrobe
•    The micro chamois bathrobe
•    The microfiber bathrobe
•    The microtec bathrobe
•    The microterry bathrobe
•    The mini stripe
•    The satin stripe
•    The velour stripe
The Meaning of Customer Satisfaction
When you provide your guests with just the right robe for the situation, you understand the meaning of customer satisfaction. When your guests feel that they are being taken care of and that their comfort and ease is of foremost importance, there is a guarantee of positive reviews, references, and return business. By concentrating on providing them with top quality amenities that make them feel pampered and help them forget the stresses of daily life, you are helping to define what it is to be in the hospitality industry.
From Mediocre to Rave Reviews
Boca Terry has been in business for a long time, and we have noted over our deep involvement in this industry the enormous difference it makes when a hotel chooses excellent towels, robes, and linens. We have seen many hotels, resorts, bed and breakfasts, spas, and inns go from having mediocre to rave reviews just by changing their supplier and switching their focus to a sense of luxury along with variety.
The Highest Industry Standard at Low Cost
Luxury items don't have to mean paying exorbitant prices. We have been able to keep our wholesale costs down by eliminating the middleman. Our factory direct robes are created in China, India, Pakistan, Turkey, and Columbia, all of which are managed with an eye to every facet of production. Our hands-on methodology ensures that every item meets the highest of industry standards, where every stitch is created to last.
Customizing Our Designs
With our Boca Terry design experts to advise you on customizing any of our bathrobe designs, you can easily add a logo, emblem, initials, or specific type of embroidery. Providing an extra touch that is unique to your brand or that corresponds with your guests' requirements, such as for special honeymoon robes or for a bridal party, is another way to keep your locale fresh in the minds of your guests in between stays.
Contact Us
For more information on ordering luxury bathrobes and more from Boca Terry, please contact us by calling 877.421.6001 or by filling out our online contact form.
Share this item with friends