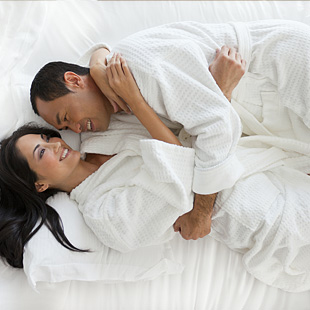 There is no such thing as having too many robes. And there is certainly no such thing as having too many Boca Terry robes, as many of our clients can happily attest to. With Valentine's Day almost upon us, its time to order from our online catalogue to delight your loved one on this special occasion.
Exceptional Selections
Our one-size-fits-all selections are made for both men and women, but there are also a few beauties whose feminine touch makes them ideal for the female in your life. Our pink satin Kimono slips over the skin like a perfumed caress, providing the wearer with a sense of grace and ease.
Create Your Customized Robe
Because we come in all sizes, all of our Boca Terry robes can be made in plus sizes, catering to a fuller form to drape around the body in perfect harmony. We can also customize any robe, incorporating an embroidered logo or design that individualizes your choice to a T.
Expressing Your Love
Valentine's Day is the day we don't hold back when it comes to expressing our love for someone special in our life. Whether it is a wife, husband, grandparent, sibling, or friend, commemorating your feelings with something that is luxurious and practical shows your thoughtfulness and regard.
Lasting Beauty and Appeal
Ordering a Boca Terry robe speaks volumes. The gesture is a symbol of giving a gift that has lasting beauty and appeal. There isn't anyone on this earth who doesn't appreciate that moment when a sensual, comforting robe is fastened around the waist, designating that it is indeed time to relax.
For the Young and Old
Our fashionable bathrobes are both timeless and classic. They can be worn by young and old, providing the sensation of pleasure while looking sensationally stylish.
The Waffles Collection
Our Waffles collection is a wonderful example of exceptional design coupled with brilliant functionality. With each waffled section designed for ultimate moisture absorption, the robe immediately wicks away excess water to create a soft, dry sensation on the skin. Perfect for after a shower or bath, these unique robes are created with the utmost attention to detail by our experienced craftspeople.
The Organic Classic Shawl Collar
Our Organic Classic Shawl Collar model is made with 100% certified organic cotton velour or terry fabric. With deep pockets and a sumptuous roll up collar and cuffs, we can guarantee that whomever receives this robe will have a hard time taking it off!  A perfect declaration of love for the man or woman in your life, this robe provides an impeccable fit with its double belt loop feature that makes it easily adjustable to any waist height.
Creating Perfect Robes
Known for our love of style, respect for comfort, and the belief that everyone deserves to live a life of ease, at least some of the time, we at Boca Terry are dedicated to creating perfect robes for all occasions. There is no better day than Valentine's to show your appreciation with a gorgeous robe made with love and care.
Contact Us
For more information on purchasing the perfect gift for Valentine's Day, please contact us using our online form or by calling 877.421.6001.
Share this item with friends