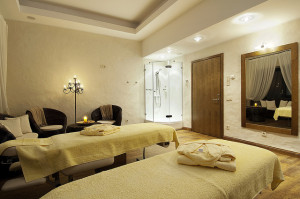 Thanks to the enticing descriptions of most spa treatments, it can be hard to choose which one is best for your skin type and cosmetic needs. Since our skin can be quite sensitive in the summertime due to the blazing sun, along with the fact that we tend to wear fewer clothes, there are certain pampering rituals that will help you look your best this season.
Slim Down

It's no secret that a majority of us feel self-conscious in our bathing suits at the beach or pool. Since it's hard to not feel as though all eyes are on you, hit the spa to increase your level of comfort when exposing your skin.
If you want to give your skin a healthy glow while looking a tad slimmer at the same time, try seaweed or mud body wraps to detoxify and smooth the skin, which can possibly help you shed a few inches off your waistline. By removing heat, bloating and toxins, a body wrap will help you feel more confident as the skin becomes more supple and sleek.
Protect Your Skin
Unless you loathe the sun, you will need to wear sunscreen everyday to protect your skin from the sun. While sunscreen is a must, you can amplify the degree of protection by getting a light exfoliating mask or facial procedure. Such treatments can refresh and rejuvenate your summer skin by reestablishing your natural glow and softening surface lines. If you're particularly prone to sunburns, hydrating facials are effective in reducing redness from sunburn. But don't get ahead of yourself with facials, as certain chemical peels and deep exfoliation are not ideal for the summertime, creating a potential for breakouts and other skin damage.
Maintain Your Shine

If you're a beach or pool rat, then you're going to want to think twice about hair care this summer. Many spas offer hair treatments that create a protective coating to prevent damage from chlorine, seawater and excessive sun exposure. Although such treatments can do wonders for your locks, you will also want to seek another treatment at the end of the summer to bring the shine back to your sun-damaged hair.
Break Out the Flip Flops
Before you rush to your nearest shoe store to pick up this season's latest sandal or flip flop, the appearance of your feet will have a huge impact on how great your summer ensemble will actually look. The first thing to look for is foot deformities such as bunions, calluses, or ingrown toe nails, which is almost a given if you've been wearing closed toe shoes for the past six to nine months.
In addition to slapping on a bright, cheery polish, visit your spa for a revitalizing foot scrub or paraffin treatment to prep your feet for the finishing touch. But foot treatments aren't just a must for the beginning of the summer as our feet are sure to get mussed up along the way. After frequent trips to the beach, your feet will definitely be in order for some soothing relaxation.
If you're ready to break out of your winter cocoon, try any one or all of these spa treatments to ensure that you look and feel your best all summer long!
Share this item with friends