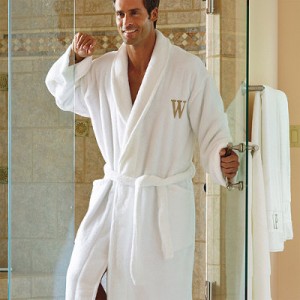 It is no secret that promotional products are some of the best forms of advertising. American businesses spend over $20 billion dollars per year giving away merchandise with logos and are finding that their profits are increasing as they demonstrate their generosity.
Attracting More Business
At Boca Terry, we supply many promotional companies with our splendid bathrobes. When you can give your potential or loyal customers luxury items that have a long shelf life, that are practicable and stylish, and that can easily feature your logo, you have created the perfect situation for attracting more business. This is exactly the reason why our robes have become such a popular item in the realm of promotional giveaways.
The Psychology of Persuasion
Using the psychology of persuasion, promotional products play upon the recipient's sense of obligation. There is hardly a society in the world that does not emphasize giving back when given to. When you include a sumptuous and exceptionally made robe in your giveaway program, you are sending an immediate message that highlights your generosity, thoughtfulness, and attention to detail. You are also saying that you value your customers, whether they have engaged with your business before or have not yet discovered your exceptional services.
Setting Yourself Apart
By giving your audience items that they will use in their personal environment, they will constantly be reminded of your generosity and thus your brand. Underscoring your marketing message through a creative design that is personalized and unique will help you set your company apart from the rest.
Customizing
Our customized embroidery does just the trick when it comes to enhancing your giveaway robes. Working with you to achieve the perfect look, we will create a logo or monogram that perfectly represents what you stand for.
An Impression That Lasts
Presenting customers with a Boca Terry robe is the perfect introduction to how you will treat them in the future. As a foretaste of what they can expect from your company, this is a meaningful way to begin your relationship. Choose from our wide array of exceptionally styled robes to make an impression that will last.
Affordability
Boca Terry robes are made in a one-size-fits-all and most styles are perfect for both men and women. This is just one of the ways you will save on costs, in addition to the fact that we use no middleman, which can cause prices to inflate. With our own factories and distribution centers we are able to keep our deliciously sumptuous products affordable, which makes them the perfect giveaway when watching your bottom line.
Thanking Your Clients for Their Support
Now that we are close to Thanksgiving, why not give a customized robe to your loyal clients to thank them for their continued support of your business. Order your promotional robes now to be sure that they will arrive in time for your holiday giveaways.
Contact Us Today
For more information on branding our robes and creating promotional items that will resonate with your loyal and potential customers, contact us today! Use the form on the Contact Us page of our site or call (877) 421-6001 to speak with one of our helpful representatives.
Share this item with friends