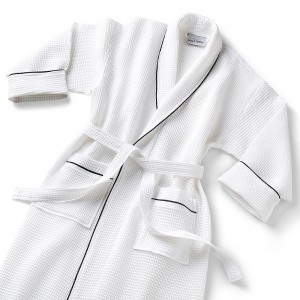 As you know, Boca Terry's name is associated with high quality and class. That makes our bathrobes a trusted item found all around the world—in homes, fitness centers, on cruise ships, and more. However, there are also some less-than-standard places to find our products. Here are some of the most surprising, unusual, and extraordinary places you can find our robes:
1. Believe it or Not, Private Yachts
You might not be surprised to learn that our bathrobes have grace the closets and shoulders of many private yacht owners. A yacht is synonymous with elegance, pampering, and high quality. That is why yacht owners have trusted us to settle in while enjoying their boat—they special order robes to elevate their experience.
2. Better Yet, Private Jets
An exciting destination our robes have arrived at is a number of private jets. Equivalent to private yachts in class, but less commonly seen by the everyday person, private jets are the quintessential sign of success and class.
3. Hurrah for the Steam Spa
For your average citizen, some of the places listed above might be hard to come by. However, it is not really so difficult to access a Boca Terry bathrobe. Head over to your local steam spa, and you might be pleasantly surprised by a beautiful Boca Terry bathrobe.
4. Most Unusual? It's a Mikvah!
It might be a no-no to talk about who was at Mikvah, but not about what was there—and our robes can be found at many, across the country. What is a Mikvah, you might be wondering? A Mikvah is a traditional religious pool used in Jewish culture. You can read more about it here.
If they trust us to provide the best robes, so should you! Please let us know if you have any questions about ordering bathrobes!
Share this item with friends