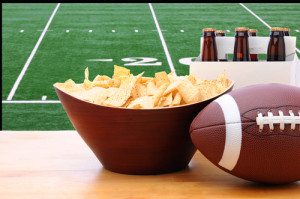 So you've volunteered to be this year's host for watching the game of the year on February 7. It's Super Bowl season, which means you need to get a head start on prepping your tools for rooting on your favorite team (or booing the competitors) when the first touchdown is made.
This is definitely the most important part of your planned festivities. Not having a great screen to watch the game on is like having the chips without the dip. Your guests will care about your TV more than your interior design, so make sure everything is working properly before the party starts—from the sound system to having the screen set on the right brightness level.
Various Snacks and Beverages
Have more than a single type of beverage ready. Set up the drinks on a well-equipped table with an ice container (if you don't already have a bar at home). That way, you won't have to get up and go to the kitchen on every commercial break or during the halftime shows—especially if that's your favorite part of the game! The same goes for your party mix and pizza bites. Lay down the cold bites on the cocktail table and set up another larger table for the warmer plates.
Regardless of how many visitors you'll have over, make sure to have a clean restroom ready (or several clean restrooms).  Why not set a small T.V. or radio in the bathroom in case your guests suddenly get a call from Mother Nature during an important game moment? Don't forget to have extra toilet paper, towels, and other amenities readily available.
Messes are usually unavoidable in parties, especially when you have children or food and drinks involved; disaster is waiting to happen, so you should be prepared for it. Have cleaning tools nearby in case a glass of red wine takes a spill on your off-white carpet or on your table. It's not just about cleaning the messes; have a set of fun games ready to keep everyone entertained in case commercials aren't as great or boredom kicks in for any reason, too.
Share this item with friends