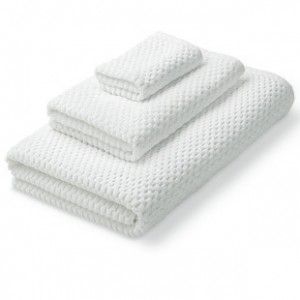 Hotel owners, spa owners, resort managers and cruise lines all face a similar problem: the constant need for more towels. What can be done to avoid this disservice to your guests? Don't be like every other resort that always runs out of pool towels! Find out how to make your towels last all summer, creating happy customers and excellent reviews.
1. Implement a Green Program
By designing and promoting a green program, hotels can save the towels that they have, by asking guests to reuse towels that have been used only once. Implementing a towel reuse program will enable hotels to go through a lower number of towels through each operating day.
Benefits of Towel Reuse Programs
This is not just an effective initiative toward saving the number of towels used, but also toward saving the water hotels and resorts use. According to the Smithsonian, "The American Hotel and Lodging Association estimates that the request reduces the number of loads of laundry washed—as well as the related water, sewer, energy, and labor costs—by 17 percent. The association also notes that such programs increase the lifespan of towels and linens, thus reducing replacement costs" (Nuwer). A towel reuse program enables hotels to use fewer towels, promotes a longer towel life overall, and lowers the amount of water the hotel utilizes.
2. Invest in Lounge Chair Covers
Hotel and spa guests typically grab a few extra towels to spread across their lounge chair before relaxing in a public environment. These towels absorb any moisture, as well as provide a barrier between this guest and the last guest. It is very unlikely to find guests that willingly lie on a hot, bare, plastic lounge chair.
Save Guests the Trouble of Searching for Towels
Spas that choose to invest in lounge chair covers are able to save guests the time, trouble and frustration associated with sprawling towels over their seats. Establishments that choose to implement this practice less frequently run low on towels that guests wish to utilize for the intended purpose—to dry off or wrap around their bodies. Say goodbye to angry spa guests and wave hello to refreshed, relaxed, returning visitors.
3. Maintenance and Care
Properly caring for towels will give them a fresh, inviting look while ensuring they are long lasting. Be sure to follow these tips for caring for towels so they last all summer!
For the First Wash
Experts suggest adding one cup of vinegar the first time you wash you terry cloth towels. This will prevent fading and will remove any coatings that prevent absorbency.
During the Following Washes
When washing, refrain from using too much harsh detergent, as this can build up in the fabric, reducing absorbency.
Drying Your Terrycloth
Avoid drying towels at high heat for a prolonged period of time. Doing so can damage the fibers, which weakens the towels. Weaker fabric means your towel is more likely to shred and get holes, shortening its period of use.
4. Lower the Number of Missing Towels
Unfortunately, hotels and resorts are losing more and more towels due to visitors' rushed packing and/or dishonesty. Often, guests pack towels in their bags before checking in to their 1000 mile flight abroad. Whether or not this is a conscious decision on behalf of the visitor, hotels are taking initiatives to reduce this issue.
What Can Be Done?
In recent years, several hotels have resorted to sewing radio frequency identification (RFID) chips into their towels. This helps hotels track when their towels leave the premises, along with where they have been taken. The RFID sound an alarm when the hotel's items are taken too far from the property.
How Effective is This Practice?
MSN explains, "A Honolulu hotel that uses RFID chips to track linens saw the theft of pool towels drop from 4,000 a month to only 750, The New York Times reports, reducing replacement costs by $16,000 monthly" (Datko). These numbers alone reveal just how commonplace this theft has become. However, there are preventative measures that can be taken by managers in order to reduce the financial burden caused by this practice.
5. The Secret is in the Quality
If your towels are tearing to shreds before the autumn makes its chilly debut, then it is time to reconsider the quality of towels you have been purchasing. Establishments often purchase the cheapest towels they see on the market in bulk, in an effort to save finances. However, purchasing managers should be careful—cheap does not describe only the price, but often the quality as well. Rather than long-lasting towels, they purchase low quality items that must be replaced quickly. Therefore, managers actually spend more than if they had simply invested in a trusted name.
Compare
Compare any cheap, generic, bulk towel to those manufactured by Boca Terry, and the difference is astounding. Because we source only the finest fabrics, our towels are made from high quality materials. We use 100% combed cotton, meaning that your towels will last all summer long. Consider our extremely absorbent Sunny Lane Towels collection or the Resort Collection for a wonderful, long-lasting towel experience.
Boca Terry: Better Towels
If the above tips do not help your towels last through the summer, then it is time to invest in more of your favorite Boca Terry towels! For questions regarding wholesale pricing, or to order more towels, contact us today!
Works Cited
Datko, Karen. "Hotels Go High-tech to Stop Towel Thieves." MSN Money. MSN, 21 Apr. 2011. Web. 18 June 2014.
Nuwer, Rachel. "Reusing Hotel Towels Actually Does Make a Difference." Smithsonian. Smithsonian, 25 Feb. 2014. Web. 18 June 2014.
Share this item with friends