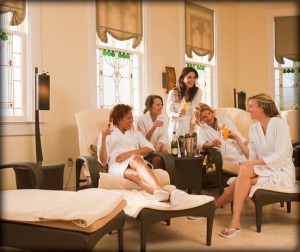 Your best friend is getting married, and as the maid of honor, it's up to you to help her choose her gown and manage the bridal registry. And usually along with this, comes the task of planning an exciting, once-in-a-lifetime event – her bachelorette party.
What, Where, and Whom!
This is the time when the bride-to-be can have a great time with her closest friends as she bids farewell to being single, so it's not a party to be taken lightly. As an event that requires some serious thought some of the questions you should be asking are: what would she love to do, where would she love to do it, and whom would she enjoy doing it with?
Making an Organized Plan
The most important element in planning the perfect bachelorette party is making sure it involves something that the bride-to-be will appreciate to the fullest. Whether its going somewhere she's never been before, doing something wild and wacky, or spending a weekend on a lower key, you need to make an organized plan to get it just right.
Sealing the Bonds Between Girlfriends
An event as monumental as getting married deserves a special token that honors your friend as the amazing person she is in her own right. Ordering matching customized robes from Boca Terry is the perfect way to provide her with a memory that will last forever, while it seals a bond between her and her best girlfriends.
Planning in Advance
Start your planning well in advance of the date. Make a thorough guest list that includes all of her favorite girlfriends, work friends, and female relatives, including those of her fiancé. This party is a way for the bride-to-be to spend precious time with the women she cares about, so don't leave anyone out. Contact Boca Terry well in advance so that our design experts can help you create a unique embroidered design or logo for robes that will perfectly represent the spirit of the party.
Making it a Surprise
Choosing a date for the event is key, as you want to make sure she'll be free. You will need to consult with her fiancé and her mom to know what her schedule is like, especially if the party is going to be a surprise. Then make sure you invite her to spend time with you on the given date so that she is sure not to make other plans. Make sure the date you choose is when everyone on the guest list is available.
Letting Her in on the Date
Many brides like to schedule their bachelorette parties at the same time that the groom-to-be is having his bachelor blowout so that neither one is sitting at home thinking about what the other is doing. If the bride-to-be wants to be in on the planning with you, this would be a good thing to discuss. Many brides like to be in on selecting the venue, so be sure to test the waters to determine if a surprise is in or out of order.
Itemize Your Supplies, Work Out a Budget
Make a list of supplies you will need if you are planning a party at home, including the budget for our affordable Boca Terry special order robes. If you're going away, itemize all reservations, car rentals, and anything else pertinent to what you will be doing so that you can work out a feasible budget that your guests can handle.
Choosing the Right Type of Party
You know your friend better than anyone, so you're the best one to judge just what type of party she'd like. If you're not sure, better ask her, as this is the moment of truth! Perhaps she's the racy type, where a big weekend bash in a city like Las Vegas, New Orleans, or New York works like a charm. Rent some great rooms in a local hotel, hire a limo or a van, make reservations at a great restaurant, and then go club hopping all night long. Remember that the bride-to-be is your responsibility, so be sure to watch out for her if she gets too tipsy.
Planning a Great Nature Weekend
If she is an outdoor type, plan a great nature weekend, be it hiking, hiking, rafting, or surprising her with a ride in a hot air balloon. Stay at a great resort where you can present your Boca Terry robes customized in her favorite color with her embroidered initials to commemorate the experience.
Creating a Special Weekend at Home
Perhaps she would prefer something more intimate, like a special weekend at home with the girls where you can gossip, reminisce, and talk about all the important things in life. Make it a theme weekend or buy her lingerie that she can wear on her honeymoon, making sure she models it for all of you as part of the bargain! Just being together on this special occasion is sure to be enough to create some of the most beautiful and lasting memories she could ever want.
Ordering Up a Spa Weekend
At Boca Terry, we've discovered that one of the best bachelorette party options is a spa weekend spent relaxing and enjoying beauty treatments and lusciously healthy meals. Bring along your order of our sumptuous Boca Terry robes to help you raise lounging to an art form. Perhaps one of our lush terrycloth hooded robes will be the right style, or one of our Microtec models for keeping the body wonderfully moisturized after a massage.
Creating a Great Playlist
No matter how you decide to create your bachelorette party, just the very fact of spending time together will produce a night or weekend to remember. Add a great playlist of all the songs the bride-to-be loves, including some great power ballads that you can all sing along to, or even a karaoke system that puts her straight in the limelight, and you'll be good to go. Make a CD of all the songs, including those that had special meaning to her when she was a teen, and you will have created yet another piece of memorabilia that will put everyone in the spirit whenever its played.
Strengthening the Bonds
With all of our experience in the hospitality industry, we at Boca Terry have been called upon over and over again to supply bachelorette parties with custom robes designed just for the occasion. Because a bathrobe is a symbol of intimacy, it is the perfect way for girlfriends to strengthen their bonds.
Gorgeously Crafted Robes Just for You
Our online catalogue is filled with luxury bathrobes to choose from, all of which are crafted to perfection, down to the finest detail. At Boca Terry, we know how to make a party special with gorgeously crafted robes created just for the occasion.
Contact Us
For more information on how we can help you plan your perfect bachelorette party, please contact us using our online form or by phone at 877.421.6001.
Share this item with friends