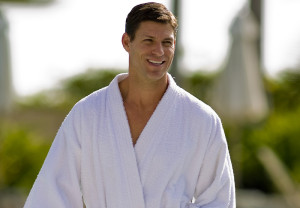 There are a number of things to look for when you are buying a bathrobe—whether for yourself or for your guests. The good news is that Boca Terry is going to analyze some of the most important features of a good bathrobe and will also reveal a few options that will meet those requirements.
Before you buy another bargain brand bathrobe, take a quick look through these tips:
Quality
Your bathrobe should always be made with the finest materials and manufactured with care. Ensuring that each bathrobe meets this requirement will help further your investment by helping it last longer.
When you choose to invest in a luxury quality bathrobe, you are making a promise to yourself and your guests that quality is at the heart of your concern, making sure your establishment is in it's best shape.
Details
All of the details can help elevate a bathrobe to be everything you are looking for. Double stitching works to keep the edges from unraveling. Adding large pockets will give your guests a place to store their small items. A hanger loop improves storage options so you don't always need a wire hanger on hand.
The details about where a product is sourced from and the quality of materials can make a big difference for you and your guests too.
Personalization and Customization
Speaking of details, you can add your own special touch by customizing your bathrobe. When you're buying for your company, you need to make sure your manufacturer allows customization.
Why is it so important? Well, you want to put your logo on the bathrobes, right? What if your establishment has a signature pattern? You can have your bathrobes customized with that pattern as well. It will give you and your guests a sense of pride wearing a robe that clearly marks where it is from.
Furthermore, some of your guests might want to special order a personalized bathrobe through your establishment to commemorate their time spent there. Allow your guests to personalize a robe with their name, initials, or a sweet monogram with Boca Terry.
Manufacturing Practices
Manufacturing is a key piece of the puzzle when it comes to identifying the right bathrobe for your brand.
When a company takes the initiative to own their manufacturing process—from the design to gathering the materials and putting them together—you know that you're in the right hands.
A company that is this dedicated to their product will also ensure that their quality standards are high. Product testing should be a part written into the manufacturing process that brands enact as well. Boca Terry is obsessed with offering high quality bathrobes—which is why we promote top quality in every stem of our manufacturing.
Organic Options
If you really want to ensure your products are cared for, opt for an organic bathrobe. Organic cotton surpasses other cotton items from the moment the seed is sowed. Free from dyes, pesticides, fertilizers and other chemicals, organic cotton is exactly what cotton should be—nothing more and nothing less.
That's why brands that offer organic bathrobes should be considered. Not only is an organic bathrobe better for the environment because of the lack of chemicals, it is also healthier because it uses less water to grow this crop than conventional cotton.
Furthermore, many reports find that organic cotton is gentler on those with allergies, skin sensitivities, and even some skin conditions such as eczema or psoriasis.
Shipping Speed
Boca Terry is dedicated to shipping out your products quickly and efficiently. Our fully stocked warehouse allows us to ensure we have products on hand ready to go as soon as you place your order. Even embroidered items are ready to go soon after an order is placed. Don't wait weeks on end for large orders. Opt for the brand that is prepared and ready for you.
Color Options
Most bathrobes come in the classic, crisp white that we have all come to know and love. However, what if you want to bring a little spice to your establishment? Boca Terry offers our signature Microfiber Bathrobe, which is available in 12 color options—maybe even one for each month of the year.
Whatever style suits your establishment or the season, there's always a reason to go with the bold, inspired hues of Boca Terry's Microfiber Bathrobe.
Men and Women's Styles
Many think of bathrobes as a one-for-all solution. But, keep in mind that men and women often have different taste in fashion—between what's comfortable and what flatters their body! That's why we supply bathrobes in styles that work for either her or him, and are adjustable to suit either side.
Extended Sizes
Let's get real. One size doesn't always fit all. So, while we offer that size, we also have extended measurements available throughout many of our selections—because each guest is unique.
Boca Terry: Helping You Buy Better Bathrobes
If you're ready to buy the best on the market, if you have any questions, or to receive a wholesale quote, contact us now! We will be happy to walk you through the ordering process.
Share this item with friends