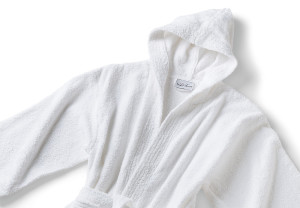 A hooded bathrobe can come in handy in a variety of places. The following are a few instances in which you can lower the hood and stay snug no matter where you are (but with some location exceptions, of course).
At the Beach
Replace your cap or fedora the next time you go take to the waters to catch some waves. Whether you're getting out of the water and need to dry off before tanning on your lounge chair, or you just went for a dive off a boat, you can wear your hooded bathrobe to take over your towel's duties. Then feel free to sip on a cool beverage as you stare at the sea in pure comfort.
Halloween
Wearing a hooded bathrobe can make for a perfect last-minute costume. Wear your hooded bathrobe if you want to be:
1. Little Red Riding Hood
2. Casper the friendly ghost
3. The White Vampire
4. Robin Hood
5. A Hooded hunter
A Cold Winter Night
Whether you're roasting chestnuts or marshmallows by the fire, a hooded bathrobe is a must for keeping warm and cozy. Instead of wrapping a blanket around you from head to toe, you can wear a hooded bathrobe both indoors and outdoors.
Before Blow Drying Your Hair
Instead of wrapping a towel around your head when you get out of the shower, wear a hooded bathrobe. It's a lot easier than towel-drying your hair and you won't have to worry about rearranging a detangled towel, either.
Out by the Lake
Planning a weekend by the lake? If it starts getting too chilly out, a hooded bathrobe can make for an excellent companion as you snuggle with your significant other and watch the sunset.
No matter what time of the year it is, hooded bathrobes serve as practical accessories that can accompany you on several routines or occasions. When you don't feel like wearing the hood, you can just conveniently let it down, without having to compromise your comfort.
Share this item with friends