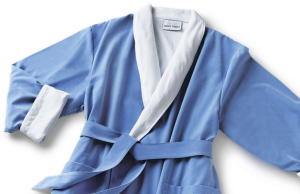 Do you remember the last time you saw a luxurious garment and thought that you absolutely must have it? That's pretty much the sentiment everyone gets when they see a quality bathrobe that can complement their silhouette without a glitch.
At Boca Terry, our gorgeously manufactured bathrobes easily give that sensation of content thanks to their world-class caliber. That's one of the reasons why many of the hospitality industry's most well known establishments have been selecting our assortment for years now. With over a dozen styles to choose from, the following are ten of our most popular lavish bathrobes.
Basic Kimono
The ideal way to turn a timeless classic into an everyday bundle of comfort is through adding sleek lines and practical compartments that are meant for making lounging an exquisite experience. That's exactly what you'll find with Boca Terry's Basic Kimono.
This Japanese-inspired piece of indulgence is designed with a historical, yet contemporary style marked by fabric of lighter weight around the collar and the sleeves so that the wearer can maneuver around more easily. Multi-needle stitching adorns the cuffs and front pockets and it's available in both 100% combed cotton terry and velour variations.
Checkered Bathrobe 
Making for an ultra plush and snug number, the Checkered bathrobe from Boca Terry is uniquely composed of velour woven in a checkered manner. The checkered style is becoming a preferred one for 100% combed cotton bathrobes as it offers the right amount of lushness to provide enough warmth.
This bathrobe also comes with a shawl collar option, which features a comfy collar and sleeves that can be rolled up. You can choose navy or white piping on the shawl collar model, too, so as to add extra original details. This bathrobe's versatile nature allows you to wear it all year long.
Classic Shawl Collar
For a traditional look that oozes luxury, the Classic Shawl Collar bathrobe from Boca Terry has become a favorite among many different industries, including hotels and spas. You can choose from velour and terry versions of this Victorian-inspired pick.
Whether you're using this bathrobe yourself or for your hospitality business, it can be worn before and after a soothing bath as a replacement for a bath towel. Its smooth and absorbent fabric is perfect for wearing any time of the year or the day. The Classic Shawl Collar robe can be worn for privacy in case an unexpected visitor drops by, offering a decent amount of privacy.
Hooded Bathrobe 
Perfect for those cooler days, Boca Terry's Hooded bathrobe can be thrown on both indoors and outdoors. Whether you're on a ski trip and visiting some hot springs, or you're relaxing in a premier resort after going for a swim, this bathrobe is great for keeping warm in.
Its large hood can simply be pulled over to offer the coverage necessary for keeping those wind chills or cool air away. The cotton terry model can absorb water and oils while keeping the wearer's skin dry, while the cotton velour style offers a silkier fit.
Knit Waffle Bathrobe 
Both the kimono and shawl collar versions of this superiorly manufactured bathrobe come with a 45% cotton, 45% modal and 10% polyester makeup. Composed of among the globe's softest textiles, the Knit Waffle bathrobe from Boca Terry is meant to exude a sense of complete pampering upon throwing it on.
Cotton is a soft material as it is, but the modal fibers in this robe are actually three times smoother than the former. The modal fiber details enhance the durability of the garment, as well, since they don't wear as quickly as cotton does. So, you can enjoy a long-lasting experience of relaxation.
Micro Chamois Bathrobe 
You can't go wrong with a lightweight material that's extra soft at the same time. Chamois is comprised of such elements and is an extremely robust fabric. This luxe bathrobe is great for matching to the décor theme of just about any interior design.
Boca Terry's Micro Chamois bathrobe features an 85% polyester and 15% nylon disposition, making it easy to fold and store without wrinkling as easy as other fabrics do. To best suit your preferences, the robe is available in kimono and shawl collar models.
Microfiber with Plush Lining Bathrobe 
Lay back in your dream oasis of comfort with this sophisticated choice. It's lined with 100% polyester Microterry, giving off an opulent effect. Wear it at home or during a weekend getaway for the feel of being in a deluxe spa all day long.
This modern classic isn't just trendy; it's also convenient for placing in a range of settings. Exuding a high-end façade, Boca Terry's Microfiber with Plush Lining bathrobe can guarantee an array of free movement.
Microtec Bathrobe 
This intricately stitched 85% polyester and 15% nylon bathrobe makes checkered and pineapple patterns look better than ever. You can find it with a raised finish in the Pineapple Check alternative, while the Mini Check comes with a sharper texture.
If you'd like to add some piping to this particular robe, you can only do so with the shawl collar or kimono version of the Pineapple Check. The Microtec bathrobe is the ultimate choice to wear while taking a stroll along a sandy beach or while sitting back to read a captivating book. 
Microterry Bathrobe 
An excellent choice for all places under the sun, the microterry bathrobe is great to use around both wet and dry areas. Made of 100% polyester, this microfiber terry selection is suitable for use in a myriad of settings.
Choose among the kimono and shawl collar versions, both of which are available in different lengths. A truly soft alternative, smoothness is on the vanguard of this bathrobe's composition and appeal. 
Satin Stripe Bathrobe 
Boasting French knit lining and large pockets along the front, the Satin Stripe bathrobe from Boca Terry shouts the essence of lavishness. Suave to the touch and feel, satin-refinement brings elegance to the forefront of this 19th century influenced robe.
Double belt loops are available for the wearer to adjust the belt's height so as to properly fit any figure. A hanger loop is also available to store the rich bathrobe with ease. Let the luxe garment accompany you or your guests to a day of pure unwinding.
Full Throttle Luxury 
Boca Terry has been manufacturing luxe bathrobes for quite some time now. Our large variety consists of varying patterns and fabrics that are suitable for different settings and times of the year. For more information on our varied assortment of bathrobes and spa accessories, call us today, and we'll help answer any of your questions.
Share this item with friends