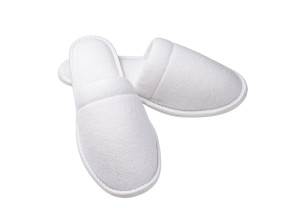 Spring and summer have both proven to be an excellent time of the year to sport slippers. Although many people consider the chillier months of winter and fall to be the most popular slipper-wearing time, the warmer seasons are enticing to dedicated slipper wearers, as well.
Why do we love slippers?
It's a mix of them being the perfect representation of the comforts of home, along with being a soothing way to relax at any given time. They feel like an extra special treat.
Not sure if you're cut out for the warmer weather slipper wearing? There's only one way to find out! We have laid out the top uses for slippers this spring and summer. Here are some of our favorite ways for you to dazzle, even if it's not December.
Hotels: Use Them In Your Rooms
Slippers are an excellent amenity and unique comfort, whether at home or in a hotel room. Hospitality managers should consider offering slippers in your hotel rooms. Trust us, your guests will never want to leave—and you can probably count on them to return in the future. Especially if you offer the slippers as a complimentary "thank you" gift, showing guests your appreciation for their stay.
Comfort After a Long Day of Work
You might wear heels or dress shoes if you work in an office style setting. Your feet might be stuffed into boots all day if you work a construction job. Or, you might be on your feet all day at your restaurant job. No matter where you work, your feet can never catch a break! From tight, stiff shoes to aching, overworked legs and feet, your toes could probably use a break!
It's hard to believe, but studies have found that even "comfort" shoes are not necessarily good for your feet. According to Jill U. Adams' article published by the Washington Post, "Buying shoes from a store specializing in comfort shoes doesn't guarantee that they will be comfortable or good for you" (Adams).
So, if we can't even rely on "healthy" shoes, what can we do? Your guests want real comfort to soothe their tired feet. That is why they typically slip on a perfect pair of slippers after a long day of work. Give them a pair of slippers to tuck their toes into, and they will be extremely appreciative of how thoughtful your brand is!
Offer Them At the Spa
Nothing is more relaxing than having a cozy pair of slippers. Slippers are a spa essential these days. You might have been surprised to realize that we don't treat our feet as well as we should, most of the time. We stand for too long, we stuff them into shoes that don't meet our supportive needs, and we barely pamper them! What if you treated your feet better, day in and day out?
Here's an idea! Offer your guests a new spa service. Perhaps a foot massage or a moisturizing foot wrap. Before and after your guests are done, be sure to tuck their feet into a cozy pair of their favorite slippers!
Warmth On the Especially Chilly Nights
Depending where your establishment is, there might be some chilly nights ahead of you. Of course, it won't be likely to get any colder than winter, but weather can be fickle—and spring is a transitional season. After that sun sets, you never know how chilly it might feel! Slippers are an excellent option for you and your guests to keep everyone's toes warm, cozy, and happy.
Boca Terry's Cozy Solutions
When your guests are ready to unwind on vacation, you'll know where to start: with the perfect pair of slippers. Here are some of our favorites!
Closed Toe: This classic slipper is exactly what your guests are expecting when they enter their room—a comfortable, closed toe slipper.
Open Toe: This pair is especially great for warmer summer months. Cozy, yet never being too hot, this is a great solution to help soothe achy feet.
Open Toe Velcro: These slippers offer a similar structure to the popular athletic flip-flops that sports players love. Now, they can receive that same comfort, but at a more extreme level!
With so many unique choices, there is bound to be one that suits your establishment and customer base.
Spring and Summer Slippers Galore from Boca Terry
If you are ready to improve customer comfort and satisfaction, then now is the time to make the move. Invest in the right slippers for this spring and summer. Contact us today with any questions about wholesale pricing, or to place your order!
Share this item with friends