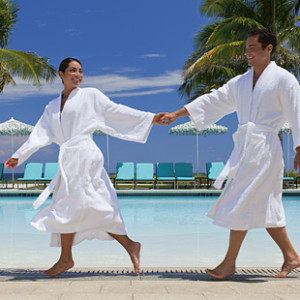 Resorts are known for their luxurious elements: nonstop fun, dependable accessories, and high-class cuisine. As you know, a 5-star resort is no place to mess around: your visitors are expecting top-notch services to create the best experience of their lives. That means you'll need to stock up or pack on many of these amenities:
1. Theater or Performance Hall
Your guests want entertainment. Just because you offer a performance hall does not mean that you have to host long plays and ballets. Learn your target audience and determine what interests them. Whether it's a Q&A session about the local area, a dance that highlights features of the culture, or an exclusive concert, your guests are ready to be amazed, so you better deliver!
For your frequent artists and performers, be sure to provide personalized slippers and bathrobes backstage! Go for the simple, Basic Kimono and embroider each performer's name on it!
2. Natural Spa Services
Your travelers want the best, which is why they chose your resort, after all. Offer the gamut of spa services: a clay mud bath; a steam bath; a full body massage—relaxation and peace are just around the corner for your guests! If you really want to bring your natural spa to the next level, provide your guests with organic bathrobes. They are excellent for your visitors who struggle with sensitive skin, and they have a positive impact on our environment! Opt for the 100% organic cotton Lightweight Waffles bathrobe: it's not too heavy, and it's incredibly soft.
There are still more spa accessories to help elevate your natural spa. Every spa needs a good blanket. Your visitors do not want to lie on a chilly massage table where others have already laid. For the sake of cleanliness and comfort, be sure to invest in soft, lightweight Waffle Blankets. These are available in Twin, Full, and King size, to ensure that there is almost always one that is the perfect size for your needs.
Finally, as your guests enjoy the steam room and sauna, they might want to make use of a soft, easy-to-use Spa Wrap. Gone are the days of struggling with a slipping towel in the spa. There is no need to worry about a spa wrap falling; it is easily adjusted to fit each wearer just right. Plus, you have the option to choose which material and pattern best suits your spa!
3. Fine Dining
Top cuisine is essential to a 5-star resort; it's true that no resort is complete without top of the line dining. In fact, many resorts have a number of restaurants on campus, allowing guests the convenience of never needing to leave the vicinity of the grounds!
That means that you can't just one restaurant, a breakfast bar, and a lunchtime café. Rather, give your guests variety. Hire a professional chef to craft a menu full off signature and regional dishes. Offer guests plenty of options from which to choose: lunch on the water; dining by moonlight; or an elegant setting in a beautiful, high-class indoor restaurant.
4. The Perfect Mix of Fun and Relaxation
Fun activities are what draw many people to a resort. Offer different activities, such as water skiing, water tubing, snorkeling, volleyball, tennis, and bike tours. On the other hand, all fun must be balanced by relaxation. Offer guests a sunrise nature tours of the grounds, treat them to a romantic private island getaway, plan a dinner for two under the stars, and make sure they have a chance to relax at the spa when needed. Create a movie night package for your guests to enjoy—a movie rental, a bucket of popcorn, and two bathrobes are all included. Our Microfiber Bathrobe is a great choice: it is elegant, beautiful, and extremely cozy. This is the perfect way for your guests to enjoy a night in.
5. Beautiful Bedrooms
You can do all you want with your resort to draw in visitors, but if your rooms aren't up to par, they will be disappointed. Your rooms need to have just as much class as the rest of your establishment, while also offering a comfortable feel. That means you'll need cozy beds, modern bathrooms, sensible slippers, and beautiful bathrobes! These are the perfect elements to top off a day of fun and an evening of rest.
Show them that you care. With all of these tips, your guests will know that your establishment designed each factor of their getaway.
Boca Terry: Helping to Bring Your Resorts to the Top
If you really want to show your visitors how much they mean to you, then you need to invest in the best. Want to know the best part about Boca Terry? Although we offer top of the line, luxury products, we manufacture our items to be highly affordable! That means that sharing your care with your guests does not have to break the bank. Are you ready to place a wholesale order, or do you simply have a few questions about pricing? Contact us, now!
Share this item with friends